News story
Transport Secretary views efforts to reopen landslip-hit rail line
Patrick McLoughlin visits site of Harbury landslip as Network Rail continues to stabilise the area.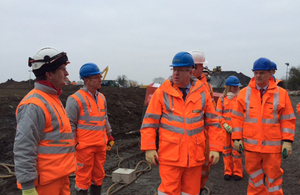 Transport Secretary Patrick McLoughlin today (12 February 2015) visited the Warwickshire railway line that remains closed following a recent landslip.
Mr McLoughlin visited the site of the Harbury landslip to see for himself the preliminary work being carried out by Network Rail's engineers to reopen the line between Banbury and Leamington Spa.
Network Rail has built a platform on the embankment which engineers will use to start removing the earth safely.
Transport Secretary Patrick McLoughlin said:
I regret rail passengers are still being inconvenienced by this serious landslip, but Network Rail's main priority is to re-open the line as quickly as possible and when it is safe to do so.

I have seen today how hard Network Rail engineers are working to resolve this situation, and train operators have told me they are doing everything possible to give passengers up-to-date information and to keep them moving. My officials are closely monitoring the situation and will offer whatever support is required.
On Saturday 31 January, around 350,000 tonnes of earth and rock slipped down the embankment close to the entrance of the Harbury tunnel, built by Isambard Kingdom Brunel in 1847.
Network Rail has started preliminary work but can only start clearing the site once the landslip has stopped moving towards the track.
Once Network Rail has assessed how quickly the earth can be removed, it will be able to establish when the line could be re-opened.
This is a busy line normally used by the Chiltern and CrossCountry train companies, with 100,000 passengers travelling on the route every week. Fifty north-to-south freight trains also use the line each day. Both operators are working together and have introduced bus replacement services between Banbury and Leamington Spa.
The affected line is also used as the alternative route for trains running between London and Birmingham when the West Coast Main Line is closed.
Network Rail cancelled its planned closures of the West Coast Main Line for engineering works to ensure passengers can continue to travel between Birmingham and London while the landslip is resolved.
Rail media enquiries
Press enquiries 020 7944 3021
Out of hours 020 7944 4292
Switchboard 0300 330 3000
Published 12 February 2015