Press release
Transport Secretary holds HS2 jobs and skills summit
City leaders are being called on to ensure new jobs and skills development opportunities are generated by HS2.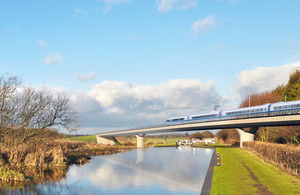 Transport Secretary Patrick McLoughlin today (17 July 2013) called on city leaders from the biggest economic powerhouses outside of London to ensure maximum economic benefits - including job creation and skills development - are generated by HS2.
He made the call at an HS2 jobs and skills summit at Manchester Metropolitan University's award-winning school of engineering.
The high-level gathering saw HS2 Ltd chief executive, Alison Munro, unveil the company's plans for creating engineering jobs for students through initiatives in schools, further and higher education and a programme of apprenticeships and internships.
Over 2,000 apprentices could be employed in construction related jobs on HS2– nearly 5 times more than either Crossrail or the Olympics. This will enable replenishment of the UK's engineering skills that will later benefit other British projects and industries. In addition it is expected there will be apprentice opportunities with rolling stock manufacture as well as non-construction roles. Even at this early stage HS2 Ltd's contractors have enabled over 700 graduate trainees and apprentices to work on the project.
The summit came on the day the government published for consultation its proposed route for phase two of HS2 - from Birmingham to Manchester and Leeds - and confirmed the introduction of an exceptional hardship scheme for homeowners on the route north from the Midlands.
Patrick McLoughlin said:
HS2 provides a once in a generation opportunity to drive growth, generate jobs, develop skills and secure our country's future prosperity. We need to squeeze every possible benefit from this vital project, leaving no stone unturned.

This summit of the biggest cities outside of London is vital to ramp up plans to ensure we make the best use of UK skills and workers in building the high speed rail network.

From 2017, HS2 will create 19,000 engineering and construction jobs. For Crossrail, 97% of the contracts have been won by British-based companies and we will do everything possible so that industry, people and businesses - particularly in the great cities of the North and Midlands - are well placed to take advantage of the tremendous opportunity the new railway presents.
Commercial Secretary, Lord Deighton said:
We saw with the Olympics, big projects can bring big rewards – boosting business, inspiring innovation and creating jobs. High Speed 2 is of vital importance to this country's growth and it is crucial we act now to provide the infrastructure the UK needs to compete in the global race.

As Chair of the HS2 Growth Taskforce I will be working with a team of experts to unlock the huge economic potential of the project and absolutely maximising the benefits to everyone along the route.
Sir Richard Leese, Leader of Manchester City Council and Chair of Core Cities Cabinet said:
We've said all along that HS2 is not just a transport project, it's an economic growth project. The extra capacity HS2 brings is far more important than the speed and this capacity will be a real engine of growth for the country, bringing our major cities closer to each other, and to mainland Europe. It will create jobs, boost productivity and help the nation compete globally.

Although it will take time to complete, some of the benefits will be seen almost immediately. Once the routing and station locations are confirmed, they will trigger investment and development which will support much-needed urban regeneration and job creation, particularly around the Core Cities. We therefore welcome the launch of this consultation and are determined not to miss this momentous opportunity.
Sir Albert Bore, Leader of Birmingham City Council and Transport Portfolio Holder for Core Cities Cabinet, said:
HS2 is a once in a generation opportunity to ensure that the UK remains competitive for the long term. Getting the best returns on HS2 means using that investment as a lever to unlock improvements in city region transport networks around the Core Cities, so that we are 'HS2 ready' as soon as possible. These are the vital transport hubs that will allow passengers to travel to and from HS2, so better city region transport means better use of HS2.

This isn't just about more money, it's about integrating transport spending and policy within a city region so that it always works in a coherent and joined up fashion. This will in turn create further jobs and growth.
Phase two consultation will run for 6 months and will be accompanied by a series of public information events from mid-October 2013 to early January 2014 where people will be able to review local information and speak directly with HS2 Ltd staff about the proposals. Responses to the consultation will play an important part in informing the decision on a final route, station and depot options by the end of 2014.
Notes to editors
List of attendees at summit:
Patrick McLoughlin, Secretary of State for Transport
Sir Richard Leese, Leader of Manchester City Council
Jon Collins, Leader of Nottingham City Council
Cllr James Lewis, Lead for Transport, Leeds City Council
Cllr Leigh Bramall, Lead for Business, Skills and Development, Sheffield City Council
Cllr Liam Robinson, Chair of Merseyside Integrated Transport Authority
Chris Tunstall, Director of Sustainability, Transportation and Partnerships, Birmingham City Council
Councillor Ann Schofield, Newcastle City Council
Douglas Oakervee, Chair, HS2 Ltd
Alison Munro, CEO, HS2 Ltd
As one of the biggest engineering projects in Europe, HS2 will offer immense potential for skilled jobs particularly in construction, operations, rolling stock manufacturing, supply chain, planning and design. There will be a high demand for skilled workers and it is vital that Britain's workforce is ready for this. Through engagement with schools HS2 Ltd will seek to encourage young people to pursue careers in science and engineering and will also work at breaking down outdated stereotypes associated with these jobs.
The exceptional hardship scheme is designed to assist owner-occupiers of residential, agricultural, and small business property. It is a temporary scheme to help people whose homes are affected by the plans for the line, and are experiencing (or are at risk of experiencing) exceptional hardship because they cannot sell them. This is not the only opportunity for compensation. As plans for the phase two line are firmed up, statutory measures will come into effect and we will consider options for further long-term discretionary compensation - as we are doing for phase one. Read more about how to apply for the EHS.
How to respond to the consultation can be found on the HS2 website.
The written ministerial statement has been published today (17 July 2013).
Key facts and figures:
8 of Britain's largest 10 cities will be linked by HS2
overall 18 cities will be linked by HS2 services from 2033
up to 18 trains per hour can run in each direction carrying as many as 1,100 passengers
trains will run at 225 miles per hour, with the potential to increase this to 250 miles per hour
demand for long distance rail travel has doubled in the past 15 years to 125 million journeys a year. By the mid 2020s the West Coast Main Line will be full
HS2 will more than double the number of seats between London and Birmingham
HS2 and major projects media enquiries
Media enquiries 020 7944 3021
Out of hours media enquiries 020 7944 4292
Switchboard 0300 330 3000
Published 17 July 2013