Press release
Transport Permanent Secretary Lin Homer takes up new appointment as Chief Executive of HMRC
Lin Homer appointed as new Chief Executive of HM Revenue and Customs.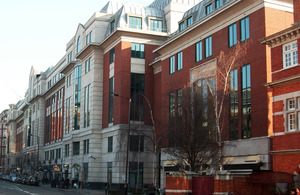 The Cabinet Secretary and Head of the Civil Service Sir Gus O'Donnell announced today (9 December 2011) that Lin Homer, the Permanent Secretary at the Department for Transport has been appointed as the new Chief Executive of HM Revenue and Customs.
Lin Homer became Transport's top civil servant a year ago, joining the department from the UK Border Agency.
Transport Secretary Justine Greening said:
While I will personally be very sorry to see her go, I know that Lin Homer will do an excellent job in her important new role as Chief Executive of HMRC.
Lin has been an excellent Permanent Secretary and her great experience of working in public service has been invaluable in steering the department through the internal restructuring process and helping put Transport in a good position to deliver the large investment in economic growth announced in the Chancellor's autumn statement.
An external competition for Lin Homer's replacement as Permanent Secretary at the Department for Transport will be launched immediately.
Lin Homer said:
I am delighted and honoured to be joining HMRC but at the same time I am very sorry to be leaving the Department for Transport. My time at the department has been very exciting and I have enjoyed helping the department contribute to the country's economic growth while also promoting carbon reduction to improve our quality of life.
I know that I am leaving behind a very strong department team which will be taking forward work for ministers on an important agenda of work including the investment in growth and preparation for the Olympics.
Media enquiries
Media enquiries: Newsdesk (Monday to Friday, 8am to 7pm)
020 7944 3021

Urgent media enquiries out of hours
020 7944 4292

The Department for Transport press office only deals with enquiries from the media.

If you're not a member of the media, please use the switchboard line
0300 330 3000
Published 9 December 2011