Press release
Transport Minister Stephen Hammond visits Crossrail's Whitechapel station
New platforms and passageways are being built for Crossrail passengers at an ambitious new station in Whitechapel.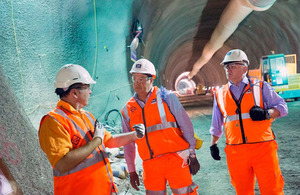 The work to build an ambitious new station in Whitechapel as part of the £14.5 billion Crossrail scheme has been praised by Transport Minister Stephen Hammond during a visit to the site on Thursday 22 August 2013.
More than 600 people are currently working at the site where tunnelling is taking place 32 metres below ground to create around 1 kilometre of new platforms and passageways for use by Crossrail passengers.
The Whitechapel station will provide an important interchange for London Overground services - linking Crossrail with east, south and south east London – as well as the Hammersmith and City and District Underground lines.
Crossrail's eastern tunnelling machines are due to breakthrough to the Whitechapel site by summer next year with the station targeted for completion by 2018.
Transport Minister Stephen Hammond said:
Whitechapel is one of Crossrail's most ambitious new stations but it is also one of the most challenging, with a raft of improvements being delivered in a tightly constrained and highly populated area.

The work being carried out here is hugely impressive and will deliver massive benefits to the area, driving economic growth and regeneration for years to come.
Key design elements of the Whitechapel station include:
preserving the existing heritage station entrance with a more spacious forecourt area
a new ticket hall and larger concourse built above the London Overground tracks, stretching from the station entrance on Whitechapel Road to Durward Street
a new pedestrian walkway providing a safe route for local residents from Durward Street on to Whitechapel Road
and a more integrated station layout allowing easy, step-free interchanges between Crossrail, London Underground and London Overground
Crossrail will transform train travel across London and the south east, delivering faster journey times, boosting London's rail capacity by around 10% and bringing an additional 1.5 million people closer to the capital' s business centres. Services will start running from 2018.
Notes to editors
Crossrail is being delivered by Crossrail Limited (CRL). CRL is a wholly owned subsidiary of Transport for London. Crossrail is jointly sponsored by the Department for Transport and Transport for London.
See images of the Crossrail work taking place in Whitechapel on Flickr.
Rail media enquiries
Press enquiries 020 7944 3021
Out of hours 020 7944 4292
Switchboard 0300 330 3000
Published 23 August 2013