News story
Transport minister opens improved road link for Milton Keynes
New dual carriageway and enlarged roundabout will provide better journeys between Milton Keynes and the M1 and help develop 2,900 new homes.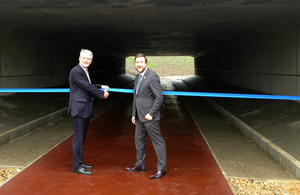 Improvements to a vital transport link between Milton Keynes and the M1 have been opened by Transport Minister Andrew Jones today (19 October 2015). The newly-dualled section of the A421 and the enlarged Kingston roundabout will deliver easier, quicker journeys for people using this eastern approach to Milton Keynes. The upgraded road will also help create job opportunities by providing access to the development of 2,900 homes on land allocated for future housing.
Transport Minister Andrew Jones said:
Better roads help people get around and get on, as well as bringing long-term benefits to local communities. The project improves an important route to Milton Keynes from the M1 and continues the government's investment in transforming the UK's road network.

The improvements will help increase capacity and reduce congestion for all road users as well as providing access for the development of businesses and new homes.
The Kingston roundabout improvements and dualling of 2 sections of the A421 received DfT funding through the Local Pinch Point Fund programme, with the government providing £9 million of the total £17.4 million cost.
The £263 million Local Pinch Point Fund launched in 2013 and is aimed at easing congestion at traffic hot-spots and helping local authorities make upgrades to vital roads and junctions. With additional funding from developers and other supporters, there is up to £500 million funding available.
Earlier in the day, the minister visited the Transport Systems Catapult (TSC) centre in Milton Keynes, an innovation centre which aims to help to make our roads less congested and polluted through better use of technology, while improving safety and security.
The TSC has received £4.65 million in DfT funding this year and is currently overseeing pioneering projects trialling self-driving cars, and low carbon vehicle technology.
Roads media enquiries
Media enquiries 020 7944 3021
Out of hours media enquiries 020 7944 4292
Switchboard 0300 330 3000
Published 19 October 2015