Transport Direct website closes on 30 September 2014
Journey planning website to close.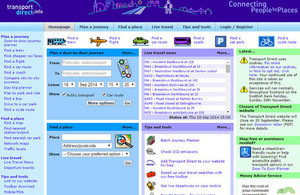 The Department for Transport (DfT) has reviewed Transport Direct and found that equivalent travel information services are now widely available online from several other sources.
Transport Direct was launched in 2004 as the first journey planner to cover England, Scotland and Wales. Since then, it has served more than 160 million travel information requests, as well as helping spectators plan their routes to the London 2012 Olympic Games. In the past few years, the government has worked with transport operators to make timetable data freely available to web developers. As a result, a number of journey planning websites have emerged, offering similar services to Transport Direct, such as:
These provide information such as:
national journey planners for public transport, car and cycle
rail and coach fares information
maps of routes, areas and interchanges
After Transport Direct closes, DfT will continue to take an active interest in journey planning. The department will also assist others in the provision of comprehensive, accurate travel information services.
Published 23 September 2014