News story
Transocean Winner and ALP Forward report published
Grounding of a semi-submersible rig on the Isle of Lewis, Scotland.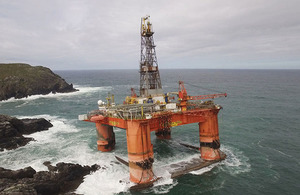 MAIB's report on the grounding of the Marshall Islands registered semi-submersible rig Transocean Winner on the Isle of Lewis following the loss of tow from the Dutch registered tug ALP Forward on 8 August 2016, is now published.
The report contains details of what happened and the subsequent actions taken, read more.
Press enquiries
Press enquiries during office hours 01932 440015
Press enquiries out of hours 020 7944 4292
Published 7 September 2017