News story
Transmitting video data securely over unreliable networks
Case study from London-based SQR Systems Limited who pitched their ideas at the CDE Marketplace on 5 February 2015.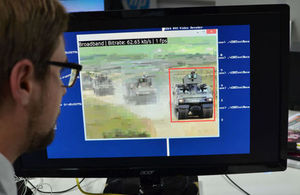 SQR Systems Limited has been funded by CDE to develop a new approach to securely transmit high-quality video over networks with varying and unpredictable bandwidths.
SQR Systems at CDE Marketplace
SQR Systems showed that this technology could reduce the bandwidth needed to transmit video data, increase the quality of video data transmitted, and protect the confidentiality of the data being transmitted. It could also be developed to allow integration with existing Ministry of Defence (MOD) and government legacy systems, meaning that it would be cost effective and simple to use.
Nithin Thomas, co-founder and CEO, SQR Systems says:
The funding we received from CDE has enabled us to grow the company from a 2-person start-up based in the founder's bedroom to a fast-growing London-based SME, employing 10 staff and developing cutting-edge technology in the field of cybersecurity.
SQR Systems was established in December 2010 to commercialise the outcome of a PhD programme by Nithin Thomas. The company focusses on the development of cybersecurity technologies for end-to-end encryption of data over unreliable networks in the defence and aerospace, critical infrastructure protection and technology, and media and telecoms sectors.
Centre for Defence Enterprise
Building R103
Fermi Avenue

Harwell Oxford
Oxfordshire
OX11 0QX
Email cde@dstl.gov.uk
Telephone +44 (0)30 67704236
Alternative number +44 (0)30 67704237
Please email for the quickest response.
Published 5 February 2015
Last updated 25 February 2015
+ show all updates
Video added: SQR Systems at CDE Marketplace
Pitch presentation slides added.
First published.