World news story
Transatlantic Hangout: supporting open data innovation and business
Open data supporters examine how the UK and Canada can benefit from open data culture.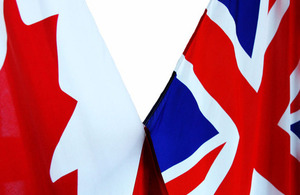 On Friday, 11 October a prominent group of open data supporters from the UK and Canada participated in a transatlantic Google Hangout. The public was encouraged to tune in and find out what is currently happening in the UK and Canada to support open data for businesses and innovators. Those watching the hangout also took part in an engaging discussion on twitter by using the hashtag #CanUKData.
The Hangout panel included:
Minister Tony Clement, President of the Treasury Board of Canada
Sam Vermette, Co-Founder of the Transit App
Sir Nigel Shadbolt, Chairman and Co-Founder of the Open Data Institute
Paul Maltby, Director of Open Data and Government Innovation in the Cabinet Office of the UK
The discussion was moderated by Theo Bertram from Google UK.
To build upon this event, Paul Maltby wrote a guest blog on the Canadian government's data.gc.ca site. In return, Minister Tony Clement published a guest post on data.gov.uk.
The Hangout took place just weeks before the UK government will host the Open Government Partnership Annual Summit in London.
Transatlantic Hangout: supporting open data innovation and business
Published 8 October 2013
Last updated 15 October 2013
+ show all updates
Updated the article to reflect to reflect the conclusion of the Hangout and embed the YouTube video. Added mention of Open Government Partnership Annual Summit and links to guest blog posts.
First published.