World news story
Training for media - activists
On 15 August NGO "Legal Media - Center" with the financial support of British Embassy launched a new project for media - activists.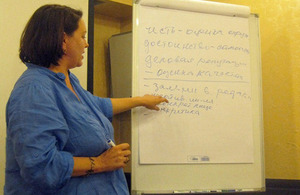 This project is aimed at strengthening the expertise of representatives of media NGOs, journalists, media - lawyers in the sphere of journalist rights protection, strong lobbying of media - community interests, engagement in the development of information legislation.
The main objective of the project is to organize a comprehensive training of media activists of Kazakhstan in certain areas:
national and international media legislation
mechanisms of participation in the development of information legislation
use of advocacy initiatives to advance the media interests in the sphere of freedom of expression and access to information
protection of journalist rights in international bodies
Also this project will include the development of manuals for journalists on the technique of legal safety, training sessions for journalists in the provinces. Within this project the chronicle of changes in information legislation will be posted on the organisation's website.
The trainers will be the experienced experts from Kazakhstan, Russia and Ukraine.
The duration of the project is 7 months (August 2013 - February 2014).
Published 21 August 2013