Training estate bidders begin site visits
Private sector bidders for the largest-ever UK military training estate contract have begun a nationwide tour of key training areas and facilities under the MOD's Next Generation Estate Contracts (NGEC) programme.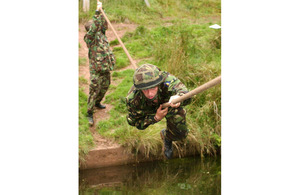 The tour began at Wyke Regis with representatives from the three bidders - Babcock Support Services Ltd, Kellogg Brown & Root Ltd and Balfour Beatty Workplace Ltd, and Landmarc Support Services Ltd - escorted by the project team and training estate representatives. The tour will run until early September, ending at Salisbury Plain.
The National Training Estate Prime contract is worth between £450m and £950m over a minimum of five years and a maximum of 10 years. It will provide services ranging from managing air weapons ranges to providing laundry services or clearing snow and ice.
From 2014 the contract will bring UK training sites currently managed under various separate contractual arrangements under a single prime contractor, including 41 training camps, with an option for a further 21 camps used principally by the Reserve Forces and Cadets Association.
The UK Defence Training Estate's wide range of infrastructure assets includes the multipath rail system at Lulworth providing moving targets for tanks, several Afghanistan training facilities, an air defence missile firing range in Pembrokeshire, and various simulated training facilities.
Under the new arrangements the contractor's range wardens will prepare training facilities for use and provide operating advice to optimise users' training experience. Contract staff will also be responsible for managing energy consumption, maintaining asset data, providing an online range bookings service, and delivering sustainable development activities such as waste management, community engagement, and conservation of biodiversity interests.
The tour is designed to give bidders an increased understanding of the requirements, in advance of developing their tender solutions, helping them to identify specific supply chain requirements. They will be shown the end-to-end process for which they will be responsible, from the initial online application for training, through bookings and allocations, to the delivery of training. They will meet MOD training staff, and see the various military activities, accommodation, catering facilities, collection and recycling of waste, biodiversity projects and other sustainability work.
Lieutenant Colonel Tim Cherry, the project manager, said:
The Defence Training Estate is critical to preparing military personnel for operations, and represents a unique undertaking for an industry partner to manage a huge range of facilities, many in primarily rural locations, some very remote.
We have a highly complex set of requirements, against which bidders will need to demonstrate the agility and innovation to deliver customer satisfaction and improving value for money, and evidence of robust supply chain plans.
Major Ian Drummond (RE), the commandant of Wyke Regis training area, said:
This visit was an important opportunity for us to engage with the bidders. We provide vital specialist training to military units in bridge building and watermanship training, and store and issue engineer equipment that is used on operations, and any incoming contractor will need a clear understanding of our role in developing military capability.
The key to our success is in the people who work here, so the contractor will need to ensure that its staff are multi-skilled across a range of operational activities, equipment and machinery and therefore fully able to take a direct role in support to training.
Following the tours, the bidders will engage in competitive dialogue to develop their outline tender solutions.
Published 8 June 2012