News story
Train struck lineside equipment in Watford Tunnel
Investigation into a collision between a train and the door of a lineside equipment cabinet within Watford tunnel, Sunday 26 October 2014
This news article was withdrawn on
This item has been moved to the National Archives as RAIB has published its report describing this accident. See Report 12/2015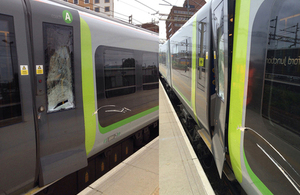 The accident occurred at approximately 07:20 hrs, and involved the 06:42 hrs service from Milton Keynes to London Euston, operated by London Midland.
The train comprised a four-car class 350 electric multiple unit and was travelling at 88 mph when the door of the cabinet struck the underframe of the third coach of the train. The impact caused the cabinet door to become detached and it subsequently hit the side of the tunnel and then a door on the rear coach of the train. This caused significant damage to the train door and penetrated the window, causing some small glass debris to enter the passenger compartment. Fortunately, there were no injuries reported by anyone travelling on the train.
When the train's door was damaged by the impact the door control system detected that the door was no longer securely closed and the brakes were automatically applied, bringing the train to a stand outside the south end of the tunnel, not far from Watford Junction station.
Our preliminary examination has established that maintenance had been taking place overnight (25/26 October) on the signalling equipment contained within the cabinet. The train which struck the cabinet door was the first train to operate over that line after the maintenance activity had been completed.
Our investigation will consider the sequence of events that led to the accident, including the planning and execution of the work associated with the signalling equipment in the cabinet that night. It will also review the way in which the operational risk to the railway was considered during the design of the cabinet and the product acceptance processes applied to it.
Our investigation is independent of any investigation by the railway industry or the Office of Rail Regulation.
We will publish our findings, including any recommendations to improve safety, at the conclusion of our investigation. This report will be available on our website.
You can subscribe to alerts notifying you when we publish our reports and bulletins.
Published 7 November 2014