News story
Train door incident, Jubilee Line
Investigation into a train door incident between Finchley Road and West Hampstead stations, North London, 1 September 2018.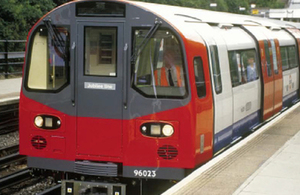 Shortly after 09:00 hrs on 1 September 2018, a London Underground train travelled on the Jubilee line between Finchley Road and West Hampstead stations with eleven passenger doors open. No one fell out of the train, and there were no reported injuries or damage.
Just before arriving at Finchley Road station, a fault developed in the computerised train control system. This meant that, when the train arrived at Finchley Road and the train operator used the cab control provided to open all doors adjacent to the platform, these doors would only open if passengers operated the local push-button located at each doorway. Because some of these push-buttons were defective, some train doors were not able to be opened.
While attempting to open the closed doors, the train operator mistakenly used a cut-out switch that bypassed a circuit designed to prevent the train from being driven with any door open. Having not been able to remedy the problem of some doors remaining closed, the train operator made a public address announcement to tell passengers that he would try to fix the problem at the next station.
A short time later, the train left Finchley Road station with the train operator unaware that some doors were still open.
When the train arrived at West Hampstead station, the train operator was contacted by a passenger on the train and told that the train had travelled from Finchley Road station with a door open. The train operator went to investigate and found ten other doors had also been open. He reported this to control room staff and the train was taken out of passenger service at West Hampstead station.
The RAIB's investigation will identify the sequence of events that led to the incident and consider:
the nature and management of the fault affecting the train's door control system
any factors influencing the actions of the train operator
the training, competency and management of the train operator
any underlying management factors
Our investigation is independent of any investigation by the railway industry or by the industry's regulator, the Office of Rail and Road.
We will publish our findings, including any safety recommendations, at the conclusion of our investigation; these will be available on our RAIB website.
You can subscribe to automated emails notifying you when we publish our reports.
Published 26 September 2018