Trafford businesses are shaping their area's future
Businesses in Trafford, Manchester, are taking the lead in the development of the areas neighbourhood plan.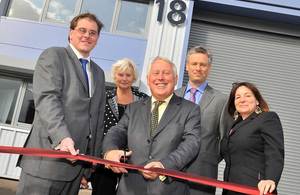 Communities and Local Government Minister Bob Neill met with business leaders and local government members in Trafford today (6 October 2011) to discuss how neighbourhood planning at Trafford Park can help to stimulate growth in the local area.
The business-led neighbourhood plan in Trafford is one of the first to test out neighbourhood planning - a radical new power for communities to shape their areas introduced in the Localism Bill. There are now 126 front-runner areas across England.
Ahead of the discussion Mr Neill visited and opened Longwood Park, the newly refurbished industrial park run by SEGRO, one of the companies involved in Trafford's neighbourhood plan. They discussed how SEGRO is working with local businesses and Trafford Council to create more local jobs and improve conditions for investment in the area.
Bob Neill said:
Trafford Park's new business-led neighbourhood plan will give the local community an opportunity to have direct control over the shape of their area for years to come. This means they will be able to plan positively for the future and grow their business with confidence, creating more local jobs and bringing new investment into Trafford.
Published 6 October 2011