Press release
Traffic courts up and running in 29 areas
All areas should have a dedicated traffic court within the next 6 months Justice Minister Damian Green said today (13 December 2013).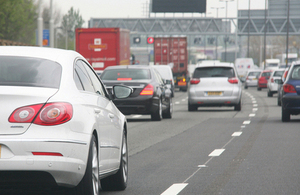 Subject to judicial agreement to list all low-level traffic cases together, dedicated traffic courts are being established across the country. The move will mean low-level traffic offences -such as speeding, traffic-light and document offences - can all be dealt with at one local magistrates' court. In a dedicated traffic court, up to 100 cases can be dealt with in a single session which reduces unnecessary delays and allows local magistrates' courts to focus on more serious offences
These courts have now been successfully established in 29 areas across the country. The government vision is for dedicated 'traffic courts' in all 42 police-force areas.
Justice Minister Damian Green said:
The safety of the general public is paramount, and we take road safety very seriously, which is why we have recently increased the sentence for causing serious injury by dangerous driving to 5 years imprisonment.

However, low-level traffic offences such as speeding can take up to 6 months from offence to completion which is a huge drain on the smooth running of the criminal justice system, and takes focus away from more serious offences. This is simply unacceptable.

We want all areas to have a dedicated traffic court, and we are on track to reach this target. Traffic courts from West Yorkshire to Sussex have shown how effective and efficient this process can be.
In a traditional court sitting an average of 35 cases may be listed in a day, which could include traffic cases alongside other types of cases such as assault, shop-lifting, and domestic cases among others. A dedicated traffic court, reduces unnecessary delays and allows local magistrates' courts to focus on more serious offences which really make a difference to communities, victims and witnesses.
In West Yorkshire, Bradford has the highest number of uninsured cars in any town in the UK. Every year courts in the region deal with over 1,400 of these types of offences, which could take an average of 6 or 7 months. However since the introduction of traffic courts, together with the use of a civilian document checker, these cases now take an average of 4 months, and a higher proportion of cases are resolved at first hearing, meaning that courts have more time to deal with more serious cases. Together with police-led prosecutions, this means that prosecutors are able to focus their resources on more serious cases, providing efficient justice for victims and witnesses.
Criminal justice agencies are being encouraged to work together so that traffic courts are rolled out across all areas by April 2014.
The roll-out of traffic courts feeds into the Strategy and Action Plan, which was launched in June this year to help speed up the justice process through a range of actions including, the digitalisation of the courts process, easier access for victims and witnesses to give evidence in court, and a more transparent and responsive criminal justice system.
Notes to editors:
1 In cases where a defendant wishes to plead not guilty, or needs to attend, local arrangements will be made for the case to be listed in a convenient location.
2 The Constitutional Reform Act 2005 specifies that the Lord Chief Justice is responsible 'for the maintenance of appropriate arrangements for the deployment of the judiciary of England and Wales and the allocation of work within courts.' Changes to local listing patterns are not overseen centrally. Local listing patterns are decided by the local Justices' Issues Group (JIG), taking into account statutory time limits, directions by the Lord Chief Justice and workload changes, with a view to making the best use of resources and providing the best facilities for court users. Listing is a judicial function which is carried out on a day to day basis in the Summary Jurisdiction by Justices' Clerks. The day-to-day operation of listing practice is the responsibility of the justices' clerk, with the assistance of the listing officer.
3 Dedicated traffic courts are part of the Criminal Justice Strategy and Action Plan The aim for traffic offences is by April 2014 to have delivered:
A centralised traffic court in each police area
Maximum use of postal requisitions
Maximum use of Live Links in courts
Digital cases files for all traffic proceedings
4 Offences dealt with in the dedicated traffic courts could include:
Driving licence related offences
Lighting offences
Load offences
Miscellaneous motoring offences (including trailer offences)
Motorway offences (other than speeding)
Neglect of pedestrian rights
Neglect of traffic directions
Noise offences
Obstruction, waiting and parking offences
Offences particular to motorcycles
Speed limit offences
Vehicle insurance offences
Vehicle test offences
Vehicles or parts in dangerous or defective condition
5 Traffic courts have now been set up in 29 areas:
Essex
Hampshire
Kent
Lincolnshire
Met Police
Nottinghamshire
Norfolk
Suffolk
West Yorkshire
Bedfordshire
Cumbria
Derbyshire
Dorset
Dyfed Powys
Gloucestershire
Gwent
Hertfordshire
Lancashire
North Wales
Northants
Northumbria
South Wales
Sussex
Thames Valley
Warwickshire
West Midlands
Devon and Cornwall
Cambridgeshire
West Mercia
6 For further information contact the Ministry of Justice Press Office on 020 3334 3536 or follow us on Twitter @MoJPress.
Published 13 December 2013