Press release
Traffic bulletin: lane closure on southbound A34 in Oxfordshire
One lane is closed on the southbound A34 between the M40 and the B430 (Weston-on-the-Green) in Oxfordshire.
This news article was withdrawn on
This press release is no longer current.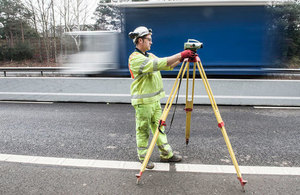 The lane has been closed due to a void in the carriageway, which measures approximately 56cm (22") deep.
The void was discovered at around 9.50am this morning during a routine inspection and the lane remains closed for safety reasons.
A more detailed inspection is required before any repairs can start and the lane reopened. However, this will require the carriageway to be closed and to minimise disruption this will be carried out tonight from 8pm.
Highways England and its contractors are monitoring the situation and will reopen the lane as soon as it is safe to do so.
Drivers are advised to plan their journeys and allow extra time. Delays are currently, at 3.45pm, at 10 minutes but peaked at 50 minutes this morning.
General enquiries
Members of the public should contact the Highways England customer contact centre on 0300 123 5000.
Media enquiries
Journalists should contact the Highways England press office on 0844 693 1448 and use the menu to speak to the most appropriate press officer.
Published 14 July 2015