World news story
Trade mission highlights opportunities in Kazakhstan's security sector
9 UK companies visited Astana, Semey and Atyrau from 21 to 25 October 2013 as part of a UK Trade & Investment trade mission to meet key Kazakh contacts.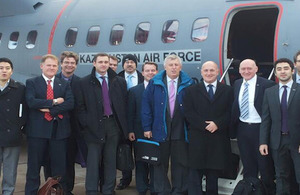 This visit was the first of its kind and demonstrated the world-leading capabilities that the UK has to offer to Kazakhstan's public and private sector industry specialists. This mission followed a series of successful government to government engagements, including the recent visit by the UK Prime Minister David Cameron to Kazakhstan.
Opportunities in Kazakstan's security sector
Kazakhstan's security sector offers a range of opportunities for UK companies. These include:
energy security – specific opportunities include security for oil & gas installations; pipe-line security; on shore security (CCTV)

civilian security – specific opportunities for access control systems; civilian monitoring (emergency, geology, etc.); airport/ port security; cyber security

event security – potential future opportunities at Expo 2017; University Games 2017; possible Olympic Winter Games 2022
Astana
The trade mission's first stop was a business meeting hosted by "National Company "Kazakhstan Engineering" JSC. The UK companies had an opportunity to meet with representatives of several Kazakhstani ministries and local contacts including:
Ministry of Defence

Ministry of Industry and New Technologies

Ministry of Environment Protection

National Security Committee

local companies operating in security sector
This business meeting was followed by a reception hosted by Her Majesty's Ambassador, Dr Carolyn Browne. This networking event enabled UK delegates to discuss business opportunities in the Kazakhstan market with:
representatives of local companies

British Business Group members
A briefing hosted by "Ernst & Young" consultancy let the delegates better understand Kazakhstan's investment climate, finance regulations, employment taxes and other important data, necessary for the work in local market.
Semey
The trip to this Eastern Kazakhstan's city included a visit to "Semey Engineering" JSC. This factory is engaged in the modernisation, engineering and maintenance of military vehicles.
Atyrau
The round table with Atyrau Governmental officials was hosted by the Mayor of Atyrau, Mr Baktykozha Izmukhambetov and was attended by representatives from the Ministry of Interior and National Security Committee. Kazakhstani counterparts learned about the UK good practice in providing security during such major events as the London 2012 Olympic Games.
In the afternoon the Mission visited KazTurboRemont Plant focused on maintenance of oil and gas machinery and equipment. This visit gave another impetus to further development of UK – Kazakhstani business relationship, especially in defence and security sphere. It helped UK companies establish initial contacts with their Kazakhstan's counterparts and government officials.
Contacts
UK companies seeking to develop their business in Kazakhstan should contact UKTI Kazakhstan via email or call +7 7172 55 62 19.
For further information regarding this visit please contact the Communications Section: +7 7172 55 62 17.
Published 5 November 2013