Press release
Trade Minister visits Dublin to promote UK-Ireland business relationship
Lord Livingston travels to Dublin today (12 February 2014) on one of his first overseas visits as Trade and Investment Minister.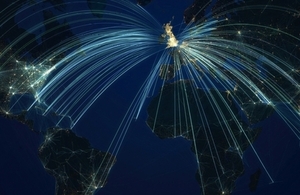 Lord Livingston travels to Dublin today (12 February 2014) on one of his first overseas visits as Trade and Investment Minister to promote what UK has to offer to one of our largest trading partners.
During his visit Lord Livingston will meet with Taoiseach Enda Kenny and speak at the annual IBEC CEO Conference at The Convention Centre, Dublin. The conference will be used as a platform for original thinking and debate on how best to drive Ireland's future prosperity and success.
Ireland is one of the UK's largest trading partners and the UK is Ireland's largest export destination.
Trade Minister Lord Livingston said:
Ireland is a very special friend. We already have an impressive record of collaboration, built on shared experience and values, supported by personal, political and economic ties and a future full of opportunity, for ever closer partnership and cooperation.

Many UK companies operate very successfully in Ireland and we warmly welcome Irish companies to invest and expand in the UK as well.
Amongst the investors that Lord Livingston will meet while in Dublin is SouthWestern, a leading Irish company offering innovative and high skilled business process outsourcing services. From its new UK base in Milton Keynes, and with exciting early contract wins already under its belt, SouthWestern will build upon its market successes to date, and will employ up to 200 people within the next 3 years in this new operations centre. UKTI first worked with SouthWestern when the company established a sales office in early 2012 as part of its entry into the British market.
Jim Costello, CEO of SouthWestern said:
Both the UK and Ireland are amongst the most open and globalised economies in the world and I'm delighted to announce SouthWestern's further expansion in the UK. UKTI helped us take our first steps into the market and, as we further develop SouthWestern as an international company with its heartbeat in Cork, our goal is to pursue the opportunities that come with trading with the UK and accelerate our company's growth both in Ireland and the UK. Everybody wins!
Earlier this week, Ireland and the UK began their first ever joint trade mission, at the Singapore Airshow, as part of a programme of cooperation to strengthen relations over the next decade led by UK Prime Minister David Cameron and Irish Taoiseach Enda Kenny.
The joint mission is being led by Ireland's Jobs Minister Richard Bruton, UK Transport Minister Stephen Hammond and Northern Ireland Enterprise Minister Arlene Foster with support from UK Trade and Investment, Enterprise Ireland and Invest Northern Ireland.
The Singapore Airshow is Asia's largest airshow, and one of the most important in the world, given that the Asia Pacific region is the world's biggest air travel market. For both Ireland and the UK the aerospace sector is a key part of their long term economic plan.
Notes to editors:
SouthWestern operate in the provision of front and back office services in the areas of CRM, Finance and HR, Public Sector and Financial Services to leading public and private sector clients in Ireland, the UK and Europe. They employ 650 people at their flagship delivery centres in Cork, Ireland and Lodz, Poland. They are now established in the UK.

In February 2012, SouthWestern claimed the title of 'Cork Company of the Year 2012'. They manage over 5 million customer calls per year and throughput over €6 billion per year in transactions for their clients. They process over 4 million documents, 111,000 pay slips and over 100,000 claims on an annualised basis.

Following the transformative visit of Her Majesty the Queen to Ireland in 2011, the Prime Minister, David Cameron, and the Taoiseach, Enda Kenny, agreed a Joint Statement in March 2012 that recognised the strength and importance of the relationship between Ireland and the UK. The Joint Statement introduced a programme of work across a range of policy areas designed to deepen the bilateral relationship between the UK and Ireland over the next decade. The 2 governments are undertaking cooperation and collaboration across a range of areas, often for the first time.

Despite the economic downturn Ireland is very much open for business. There is a vibrant export market and increasing competitiveness and innovation in the Energy, Agri-Food, Financial Services, Creative (gaming), Business Services, ICT and Pharma sectors. Ireland remains the UK's 5th export market overall and first for both food and drink.

More than €1 million of trade between the UK and Ireland every week. For January to November 2013 UK exports for goods to Ireland were over £16 billion – an increase of over £1 billion for the same period in 2012. Bilateral trade was over £27 billion for goods between January to November 2013.

Ireland is the UK's 5th largest export market worth £27 billion in 2012. The UK is Ireland's largest trading partner. The UK accounts for 34% of imports to Ireland. 17% of all Irish exports go to the UK, totalling €15.2 billion. Ireland is the UK's largest export market for the food and drink sector.

At the end of 2012, direct investment in the UK by Irish companies (book value) totalled £12.1 billion, making Ireland the 11th largest investor in the UK. During the period 2006 to 2007 to 2011 to 2012, UKTI recorded 313 new FDI projects from Ireland into the UK. Total job creation, during this period was 30,811.

There are more than 50 Irish companies listed on the London Stock Exchange. More than from any other overseas country.

There are currently over 45,000 Irish Directors of UK companies – more than of any other nationality and representing 16% of all non-British directors in the UK. Irish companies employ in the region of 100,000 people in the UK and a similar amount employed by UK companies in Ireland. Between 2003 and 2012, Irish companies invested £40.90 billion in capital expenditure in the UK and created 183,905 new jobs.

Key sectors for Irish companies in the UK are 1) Food and Drink 2) Energy/Environmental Technology and 3) Business and Professional Services.

The government's economic policy objective is to achieve 'strong, sustainable and balanced growth that is more evenly shared across the country and between industries'. It set 4 ambitions in the 'Plan for Growth', published at Budget 2011:
to create the most competitive tax system in the G20
to make the UK the best place in Europe to start, finance and grow a business
to encourage investment and exports as a route to a more balanced economy
to create a more educated workforce that is the most flexible in Europe
Work is underway across government to achieve these ambitions, including progress on more than 250 measures as part of the Growth Review. Developing an Industrial Strategy gives new impetus to this work by providing businesses, investors and the public with more clarity about the long-term direction in which the government wants the economy to travel.
12.UK Trade and Investment (UKTI) is the government department that helps UK-based companies succeed in the global economy. We also help overseas companies bring their high quality investment to the UK's economy – acknowledged as Europe's best place from which to succeed in global business. UKTI offers expertise and contacts through its extensive network of specialists in the UK, and in British embassies and other diplomatic offices around the world. We provide companies with the tools they require to be competitive on the world stage. For more information on UKTI, visit www.ukti.gov.uk or visit the online newsroom at www.ukti.gov.uk/media.
Published 12 February 2014