Trade Minister: there must be no end to our global trade ambitions
Graham Stuart's trade tour supports UK exporters to Australia and Taiwan investment in the UK.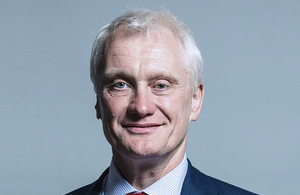 International Trade Minister Graham Stuart is encouraging British business to expand their reach as he attends the Commonwealth Games in Australia this week.
The minister will meet with several UK companies that have already been using their cutting-edge capabilities to get the Games up and running, flying the flag for quality home grown products and challenge the idea that UK companies only benefit from trade with countries close to them in Europe.
Companies which have won contracts to supply the games include Foamhand, an innovative crowd management company that uses giant foam hands to guide visitors in the right direction at major destinations, as well as Aggreko, a major Glaswegian power generation company providing electrical power at all 18 competition venues.
The Commonwealth Games, (4 to 15 April) are set to be attended by more than 6,000 athletes representing 71 nations and territories in Gold Coast, and broadcast to a global audience of 1.5 billion people.
The visit comes as more than 15,000 VAT-registered businesses now export goods to Australia, with UK-Australia trade at £13.1 billion in 2016 – a rise of more than 20% over the last 10 years, with the UK operating a trade surplus with the country.
The minister will continue his trade tour in Taiwan where he will announce an £18 million Taiwanese investment into the UK from agritech company YesHealth Biotechnology. The business will set up its European base in York, providing local consumers with fresh and pesticide-free products.
Minister for Investment, Graham Stuart said:
As UK athletes go for gold at the Commonwealth Games on the Gold Coast, our exporters are already on the medal table after landing contracts to get the games up and running.

Global Britain has seen great success as our exports rise to £625 billion and our foreign direct investment is higher than ever before but there's more that can be done to further strengthen our ties with both Australia and Taiwan.

As an international economic department, we are supporting these efforts through tailored trade support in our Exporting and Invest in GREAT Britain campaigns.
In Taiwan, the minister will meet the President of YesHealth, which will over the next 2 years will see the company establish their first European base at York's UK's National Agri-Food Innovation Campus.
Winston Tsai, President of YesHealth iFarm said:
YesHealth Group has proven that vertical farming is a profitable business that can create new jobs in a farming industry that is finding it increasingly challenging to attract young workers. The vertical farming industry in the United Kingdom is still developing; and this, together with attractive market conditions, makes the United Kingdom an obvious choice for YesHealth Group.

We would like to take this opportunity to express our sincere gratitude to the British government for their support towards making this a reality.
A further £3.5 million investment will also be announced from Han Dian Foods to expand its UK manufacturing operation in London and meet increased demand. This will also see Han Dian launch a chain of takeaway restaurants across the UK.
Mr Stuart's visit comes ahead of the Commonwealth Heads of Government Meeting (CHOGM) in the UK later this month. This will be the largest ever leaders' summit in the UK, with 52 heads of state and thousands of businesses in attendance.
The UK is committed to working with its allies at CHOGM, including Australia, to promote global free trade.
Its trading relationship with both the Commonwealth and Australia continues to blossom – UK trade with the Commonwealth already stood at £94 billion in 2016.
The minister will continue to Hamburg where he will meet UK businesses attending the Aircraft Interiors Expo.
Further information:
Australia:
nearly 15,000 UK VAT-registered businesses now export goods to Australia, with UK goods exports at £8.6 billion in 2016 – up 3% on the previous year
the UK is also one of Australia's largest foreign investors, with the stock of UK FDI in Australia at £41 bilion, 45.3% higher than in 2015
Taiwan:
the UK's trading relationship with Taiwan also continues to flourish, now worth £5.4 billion – up 0.9% from 2015. The stock of UK FDI was at £3 billion in 2016, up 23.2% on 2015
Germany:
total trade in goods and services (i.e. exports plus imports) between the UK and Germany was £124.2 billion in 2016, a 6.6% increase from 2015
Published 5 April 2018