World news story
Trade Chief promotes UK food and fashion online in China
UK exporters will receive a boost with two new online initiatives in China's fast-growing e-marketplaces, it is announced today (8 December 2014).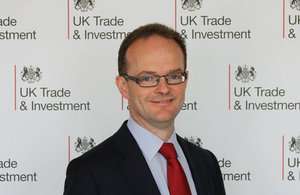 The news was unveiled by UK Trade and Investment (UKTI) Chief Dominic Jermey as he begins a week-long tour of China to promote British trade and investment.
The initiatives will be run by two of China's leading online platforms, Shangpin.com and Tmall, enabling customers in China to buy British fashion and food.
Dominic Jermey said:
I am delighted to return to China, a key global trade and investment partner for the UK, and announce these two exciting initiatives to help British companies sell online here.

Since 2010 UK exports of goods to China have increased by 115 per cent and stood at £12.4 billion in 2013, while we are the seventh export destination for China. Given the UK receives more Chinese investment than any major EU country, our relationship really is going from strength to strength.

I am looking forward to further cementing our partnership during my trip as we prepare for next year's GREAT Festival of Creativity, which promises to be an exciting opportunity for both our nations to forge new trading partnerships together.
UKTI/CBBC and Shangpin MoU
This afternoon in Shanghai, the UKTI CEO will witness the signing of an Memorandum of Understanding (MoU) between UKTI, the China Britain Business Council (CBBC) and Shangpin.com, a leading online fashion retailer.
This will enable British fashion brands to sell to Chinese consumers using the online platform.
Alibaba and Tmall
Tomorrow at the Alibaba headquarters in Hangzhou, he will highlight the range of British merchandise available to buy through the Tmall e-commerce platforms.
He will also welcome the plans to open the British Foodhall on Tmall, a new platform to feature British food and drink products.
Dominic Jermey's Visit in China
Dominic Jermey is visiting China from 8 December to 11 December. During his visit, Mr. Jermey will:
meet senior officials from the Ministry of Commerce to discuss further governmental support for trade and investment between the two countries
meet the National Energy Authority Offshore Wind division to follow up an MoU on Offshore Wind Collaboration
visit the Long Museum on the Bund in Shanghai, which will be the venue of the UK's GREAT Festival of Creativity in March next year
meet with Chinese and British enterprises to discuss further business collaboration
meet the China Cultural Investment Group (CCIG) and their partners to discuss commercial opportunities in the culture and creative industries
Contact the UKTI team in China for more information and advice on opportunities for doing business in China.
Notes to editors
Companies can register for the festival
More information on the festival and the programme will continue to be added to the website over the coming months so delegates should check back regularly.
Find out more about the GREAT Britain Campaign
For the latest updates, follow GREAT Festivals on Twitter: @GREATFestivals
Published 8 December 2014