Trade and Investment Minister ends Australian visit with busy Sydney programme
In a jam-packed day in Sydney, Lord Green met the NSW Premier Barry O'Farrell and leading business people from Australian and British companies.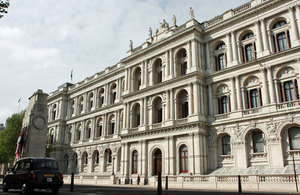 The Trade and Investment Minister finished his Australian visit today after a whirlwind few days in Perth, Sydney and Melbourne. The Minister was in Australia to attend the Commonwealth Business Forum and to promote British business links with Australia.
The British Consul-General and Director-General of UK Trade & Investment in Australia and New Zealand, Richard Morris, hosted a breakfast for Lord Green attended by 19 guests, a mix of current and potential inward investors from New South Wales and Queensland and key industry contacts.
His programme in Sydney included appointments with high-level representatives from politics and business including a call on the Premier of New South Wales, the Hon. Barry O'Farrell to explore opportunities for UK companies in New South Wales.
Turning his attention to the London 2012 Games, Lord Green toured the offices of BVN Architecture, an Australian firm which successfully won the bid to design part of the London 2012 Olympic Village. BVN partnered with London architects Patel Taylor to design two of the 15 plots, each plot has 290 apartments housed within five buildings. The project, valued at approximately £102 million, also includes car parking, cycle stores and private communal space.
The Minister also hosted a lunch with the Sydney business community attended by John Laker, Chairman, Australian Prudential Regulation Authority, Paulo Maia, CEO, HSBC Bank Australia, Alistair Wood, State Manager, HSBC Banking, Guy Debelle, Assistant Governor, Reserve Bank of Australia, Nick Johnson, Managing Director, Barclays Capital, Stephen Williams, Country Executive. RBS, David Smith, Chief Executive, Lloyds International.
Lord Green paid a visit to the A$6 billion Barangaroo development, Australia's largest urban environmental development project, which will revolutionise Sydney Harbour's iconic waterfront; due to begin construction this month. He was given a briefing on the ambitious sustainability and development plans for the site, expected to deliver a climate positive precinct and achieve carbon neutrality.
In the evening he spoke at a UK Trade & Investment (UKTI) professionals' reception at the British Consulate-General, Sydney. The event was sponsored by British Airways, who launched their new advertising campaign at the event.
Lord Green Australian tour 2011
Published 28 October 2011