Trade and investment key to the Commonwealth's future
Lord Howell, Minster for the Commonwealth, spoke of the trade advantages open to the Commonwealth at a speech for the Commonwealth Secretariat on Thursday 30 September.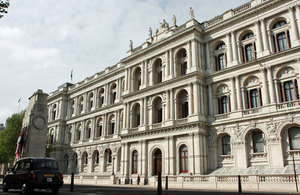 His speech identified opportunities for the Commonwealth to 'stand out from the crowd' by keeping trade and investment at its heart.
Lord Howell said: 'In a changed international landscape the Commonwealth can be the face of the future and a platform for the 21st century'.
'It is easier to invent, mobilise capital and build trade opportunities within the Commonwealth because of the many shared advantages. Studies have also shown there is a Commonwealth premium when member nations trade with one another. The Commonwealth network is a wonderful template for doing business.'
His speech comes as new research, published by the Royal Commonwealth Society, shows that a Commonwealth country's trade with another member is likely to be a third to a half more than with a non-member. Between them, Commonwealth countries traded around US$4 trillion worth of goods in 2008.
Commonwealth members represent a quarter the G20 and include some of the world's fastest growing and emerging economies. 85% of the Commonwealth population have English as their first or official language. They also share principles of democracy, the rule of law, good governance and similar legal systems. These commonalties provide the foundations in which to conduct business.
Dr Danny Sriskandarajah, Director of the Royal Commonwealth Society, said:
'The Commonwealth may be best known for its Games, but it seems to be delivering some serious Gains on the trade front. Though founded on shared political bonds, the Commonwealth's future may lie in promoting economic ties.'
The Commonwealth: was established with eight members in 1949. In 2010, it has 54 members with a total population of nearly 2 billion. It is an association of governments and peoples, built around shared language, institutions, challenges, aspirations and values. The Commonwealth promotes democracy, development, and diversity within its member countries and across the world.
Published 30 September 2010