Tornado squadrons to be disbanded
The Royal Air Force's Number 13 and 14 Tornado squadrons are to be disbanded and formally stood down on 1 June 2011, it has been announced today.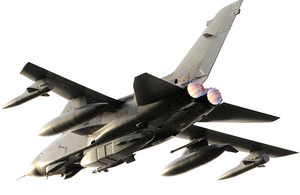 The last government announced in December 2009 that the RAF would need to reduce the number of Tornado or Harrier squadrons, but left the detail of the reductions to the Strategic Defence and Security Review (SDSR).
In the event the SDSR had to consider how best to make these reductions against the background of the fiscal situation. And as a result of this the RAF has announced today that 13 Squadron, based at RAF Marham, and 14 Squadron, based at RAF Lossiemouth, are to be disbanded.
These squadrons have been selected by the Air Force Board Standing Committee, taking into account operational commitments and the relative seniority of the squadrons at each base. The squadrons will be formally stood down on 1 June. The RAF will retain five front line Tornado squadrons with a total fleet of 136 GR4 aircraft.
The disbandment of these squadrons does not mean that their personnel will automatically be made redundant. In the short term they will be found alternative employment. The RAF anticipates that the majority will be found other permanent roles, although not necessarily in their current location. Those personnel working in areas which the RAF has identified as containing surplus staff will of course be able to apply for, and be considered for, redundancy, alongside exploring other options within the Service.
Published 1 March 2011