Tornado squadron welcomed home from Afghanistan
Over 2,000 well-wishers welcomed RAF Tornado crews and engineers home from Afghanistan on Friday when they paraded through the streets of their local town of Swaffham, Norfolk.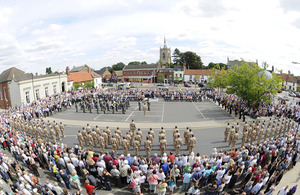 The parade, led by the Band of the Royal Air Force Regiment, formed up at the Market Place where personnel from II (Army Cooperation) Squadron received their Operational Service Medals for Afghanistan from Richard Jewson, the Lord-Lieutenant of Norfolk.
The squadron returned from operations in Afghanistan two weeks previously when they flew into RAF Marham to an emotional welcome by family and friends.
They have had an extremely busy deployment in support of UK and coalition troops on the ground.
During that period over 500 sorties were flown, amounting to nearly 1,700 flying hours, all in direct support of ground-based forces.
Of those 500 sorties, approximately 100 were ground close air support requests where the Tornado GR4s were scrambled within 30 minutes of the request coming in for assistance.
The Tornado detachment's contribution to Op HERRICK is very well understood and appreciated by those on the ground, who ultimately benefit from the presence in the air. The Tornados provide both close air support and intelligence, surveillance and reconnaissance.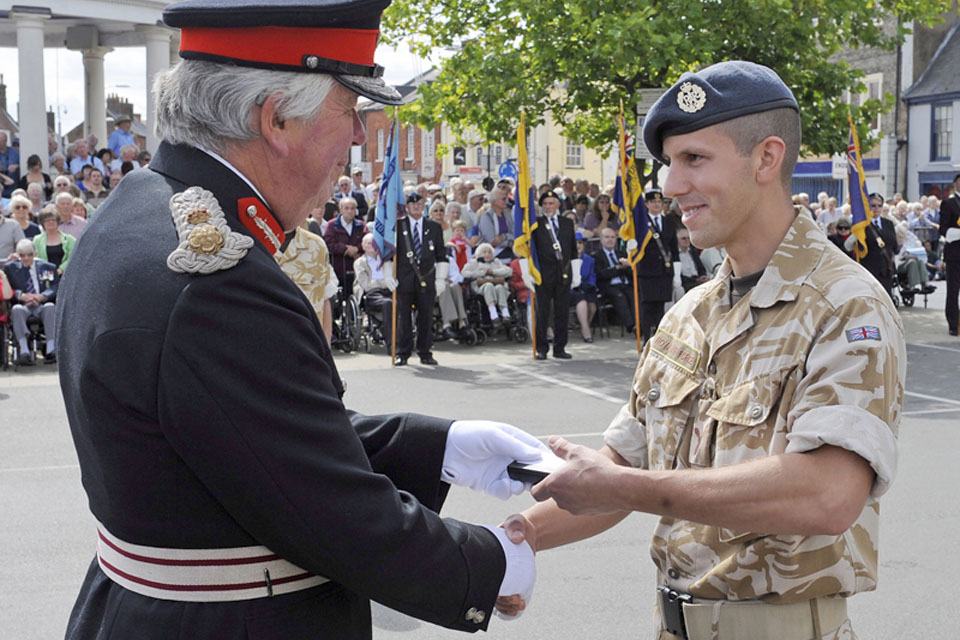 Officer Commanding II (Army Cooperation) Squadron, Wing Commander John Turner, said:
My team have done a superb job during their very busy deployment in Afghanistan, and they should be justifiably proud of their achievements.
My engineers have generated, and my crews flown, a sortie rate unprecedented in the Tornado GR4's period in this theatre. My engineers have toiled tirelessly in the most difficult of working conditions, and have done so with a sense of strong humour and duty.
The team of aircrew have delivered effect in the most professional manner, and wholly in line with the Commander International Security Assistance Force's tenet of 'courageous restraint'.
I have been immensely proud of the contribution made by each and every member of the squadron in their most determined support to Op HERRICK.
It has been an honour to parade here today and for the squadron to receive their Operation HERRICK medals in front of so many people.
The welcome that we have received today from the people of Swaffham and the wider community has been overwhelming and we thank them all for the support they have given us, and our families, throughout our deployment.
Published 10 August 2010