Tornado livery marks 100 years of RAF Squadron
Number II (Army Cooperation) [AC] Squadron have decorated a Tornado GR4 in special livery to commemorate the Squadron's 100th anniversary.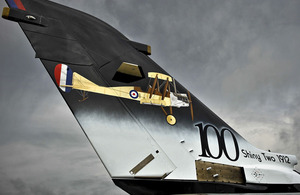 Number II (AC) Squadron, based at RAF Marham in Norfolk, were formed as a squadron in the Royal Flying Corps at Farnborough on 13 May 1912. To mark the anniversary a GR4 aircraft has been painted with tail livery that depicts the iconic BE2 aircraft with which the Squadron was equipped during the First World War.
The Squadron badge features a distinctive 'Wake' knot in the centre roundel, derived from Hereward The Wake, the 11th Century folk hero who led opposition to William the Conqueror in the Fens, and which indicates the basic role of the unit as a guardian of the Army.
The roundel is also shown on the fuselage next to the equally distinctive Squadron insignia of the white "triangle, circle, triangle", this having been the recognition symbol used by the Squadron during their service above the Western Front during the First World War.
RAF Marham Station Commander, Group Captain Cooper, stated:
This is a fitting tribute to 'Shiny Two' and a demonstration of the skills of our Spray and Finishing bay. Royal Air Force Marham personnel look forward to sharing in Number II (Army Cooperation) Squadron's celebrations this year alongside those of 3 Squadron, who enjoy a similar, significant anniversary.
The potent capabilities of the Tornado and Typhoon could not have been imagined by those early aviators and these events mark an notable occasion in the Royal Air Force's history.
The Squadron will receive their new Standard on 11 May 2012, a significant and historic event which precedes a weekend of celebratory activities, culminating a Service of Dedication in Ely Cathedral on 13 May.
Published 20 March 2012