World news story
Top tips for applying for a UK student visa
This was published under the 2010 to 2015 Conservative and Liberal Democrat coalition government
UK Regional Manager for Visas and Immigration, Mandy Ivemy, offered some 'top tips' to students thinking about applying for a UK student visa.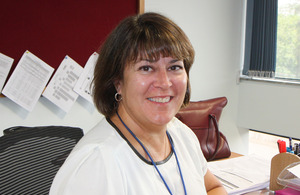 UK Regional Manager for Visas and Immigration, Mandy Ivemy, in her briefing with a group of journalists this week, offered some 'top tips' to students thinking about applying for a UK student visa. Emphasising that the UK welcomes the best and brightest Pakistani students, she offered the following advice:
Make your application as soon as you can. Do not leave it until the last minute. We aim to process most student applications within three weeks, but sometimes it takes longer. There is always a surge in student applications shortly after A Level results are published. So get everything else for your application ready, so once your exam results are confirmed, you can apply promptly for your student visa.
Don't submit fake documents: The most common mistakes students make in their application is that they don't tell the truth – often on the recommendation of bad advice received from unscrupulous visa agents. If you lie or use fake documents, and you get found out, your visa application will be declined. You also risk being banned from visiting the UK for up to ten years.
Visit our websites before applying:
All the information you need to make an applications is available, free of charge, on our website. Make sure you read the requirements published on our website. For example, one of the requirements for a UK student visa is for a certain sum must be in your bank account for 28 days prior to the application. The rules are strictly enforced. If the funding has only been in place for 26 days, your application would be refused. Therefore, it's really important that student visa applicants read all the information when they plan their application. All requirements are available on our website
Beware of unscrupulous agents:
Some applicants use visa agents to help apply for a visa. Many of these agents offer good advice and are helpful for certain individuals. But all of the information you need is also on our website, free of charge. . If you think you need more advice from an agent, please choose them carefully. REMEMBER: Agents have no influence in the visa decision-making process and under no circumstances can guarantee your visa will be issued. Do not believe any agent who tells you otherwise. Please report any fraudulent visa agents to the Police.
Check your educational institute is genuine:
We want to remove the abuse within the system and protect legitimate students from poor quality or bogus institutions. We have a very robust system of registration and sponsorship where organisations, universities and educational institutions in the UK are all accredited with UK Visas and Immigration. Anybody applying for a course in the UK should only apply to study at an approved institution, a list of which is available here.
Further Information
Last year the British High Commission received around 16,000 student visa applications. A visa was issued in to around 68% of these applicants. A large number of rejected applicants had either submitted forged documents, did not provide enough supporting evidence or did not meet the criteria as explained on our website.
All the information you need to read before applying for a UK visa can be found here There is also a link to the online application portal on this website.
A full list of educational institutions which are currently authorised by the UK Visas and Immigration (part of the UK Home Office).