News story
Top Home Office civil servant to retire
Theresa May has thanked David Normington for his 'enormous contribution' to the civil service after he today announced his retirement.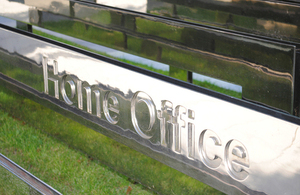 The permanent secretary will retire at the end of December.
David Normington has spent 37 years as a civil servant, including five years at the Home Office and five years as permanent secretary at the Department for Education and Skills.
Breadth of experience
'I'd like to thank David for his enormous contribution to the Home Office, and the civil service as a whole over many years,' said the Home Secretary.
'His modest style belies a breadth of experience and an impressive grasp of the issues which helped to make the transition to the coalition government a smooth one. He has been a great asset to the Home Office and I wish him well for the future.'
Proud and privileged
David Normington said: 'I have been proud and privileged to lead the Home Office for the past five years. I know more than anyone how committed the department is to its mission of protecting the public.'
The process for finding a replacement will be announced in due course.
Published 8 September 2010