News story
Top cop picked to head up new policing college
The chief constable of Hampshire Constabulary has been picked to lead the new College of Policing.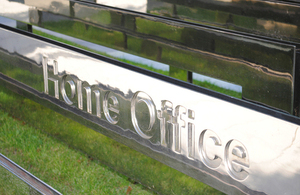 Alex Marshall, who has more than 30 years policing experience and led on the creation of the National Police Air Service,  was chosen from a strong field of candidates to be the college's first chief executive officer.
Driving down crime
Policing and Criminal Justice Minister Damian Green said: 'Alex Marshall has an impressive track record of driving down crime, supporting innovation and cutting bureaucracy - all skills that will be integral to the College of Policing.
'The college will be the engine of police reform, enhancing professionalism and setting the highest standards of integrity. It will allow us to develop the change in culture crucial to British policing so I am pleased that we have such a well-qualified police officer taking the helm.'
Mr Marshall started his policing career in the Metropolitan Police in 1980, rising through the ranks of the force to become a detective chief inspector by 1998. He became chief constable of Hampshire Constabulary in 2008 and crime has fallen in the force every year subsequently.
Skills to succeed
More recently, he has played a pivotal role in establishing the National Police Air Service, the first borderless air service for the police, which is expected to save £15 million per year.
Alex Marshall, CEO designate, said: 'From day one in my new role I will work to equip all who work in policing with the tools, skills and knowledge they need to succeed.
'This appointment is a fantastic opportunity to replace bureaucracy and unnecessary policies in policing with practical, common sense approaches based on the evidence of what works.'
The College of Policing will become operational in December. It will protect the public interest by enhancing police standards, identifying evidence of what works in policing and sharing best practice among officers.
It will provide a range of functions from supporting the education and professional development of staff and officers to setting standards for specialist skills and training, such as investigation, intelligence and firearms.
Published 24 October 2012