Tongan troops to work with UK and other ISAF forces in Afghanistan
The international mission in Afghanistan has received a welcome addition of troops from the South Pacific Kingdom of Tonga.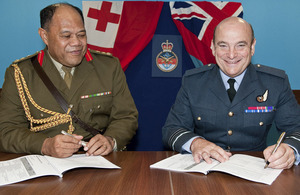 During a visit to the UK's Permanent Joint Headquarters just outside of London, Brigadier General Tau'aika 'Uta'atu, Commander of the Tonga Defence Services, signed an agreement committing Tongan troops to ISAF's campaign in Afghanistan.
Tonga has agreed to deploy more than two hundred troops over the next two years. These troops will work with UK, US, Estonian and Danish personnel in central Helmand, together with Afghan National Security Forces, helping to improve security in the region.
Secretary of State for Defence, Dr Liam Fox, said:
We welcome the Tongan contribution to the ISAF military strength in Helmand. This deployment represents a significant contribution from a comparatively small country and further demonstrates the continued will of the international community to work towards a stable and secure Afghanistan.
In a simple ceremony, Chief of Joint Operations, Air Marshal Sir Stuart Peach, signed a memorandum of understanding with Brigadier General 'Uta'atu. Also present for NATO, on behalf of the Secretary General, was Mr Nick Williams.
Air Marshal Peach added:
We are proud to have the Tongans serving with us. They are an excellent defence force and we are looking forward to working with them in Helmand province. Their contribution will make a difference to the commanders on the ground and we are committed to ensure they have all the support they need from us.
Following pre-deployment training with the RAF Regiment throughout November, the first contingent of 55 Tongan troops will be posted to Afghanistan in a force protection role, a function which they proved particularly adept at during operations in Iraq. Their deployment will provide new tactical options for commanders to make best use of the capabilities available to them.
As part of their deployment the Tongan personnel will receive an operational allowance in UK pounds in addition to their standard salary for the duration of their deployment.
Published 8 October 2010