World news story
Tohoku students visit UK to attend 2013 UK-Japan Young Scientist Workshop
Young Scientist Workshop Programme invites talented Japanese students to gain skills in the world of science and engineering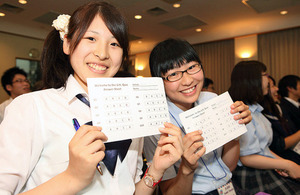 On 17 July, 30 high school students and science teachers from the Tohoku area will travel to the UK to gain valuable new skills and build international relationships. The programme, sponsored by Rolls-Royce for the third time, is organised by the Clifton Scientific Trust and brings together students from schools in Japan and the UK to form small project teams in a variety of areas in science and engineering. These students, all aged 16 or over, are selected by their schools on the basis of which students will gain most from the experience the programme has to offer.
Each of the project teams will gain unique experience in cutting edge science, engineering, research or development, and will be given a related challenge to solve as a team. They will also be required to present their achievements to a panel of select guests.
Since 2011, over 40 students and teachers from the Tohoku region have participated in the programme and past projects have included Tohoku-specific science subjects such as the effects of radiation. Dr. Hashidzume, science teacher at Fukushima High School, who participated in the programme in 2012 said;
The workshop was an invaluable experience for the students, and it gave them new skills that they will benefit from throughout their careers.
A special event to mark the students' trip was held at the British Embassy Tokyo, where Julia Longbottom, Chargé d'Affaires said;
The Young Scientist Workshop programme highlights the close and long-lasting UK-Japan science relations at all levels. The British Embassy is especially delighted to be hosting today's event in 2013, which marks the 150th anniversary of the Choshu Five's own famous trip to study in the UK, before returning to Japan to become notable leaders in their chosen fields. The UK offers both world-class science and a world-class learning environment and together with our partners at the British Council, we are always seeking ways to encourage more Japanese students to experience all that modern Britain has to offer, fostering even stronger relations between the UK and Japan. We hope that this year's group of Young Scientists will not only go on to apply skills learned in Cambridge to their careers, but also inspire the next generation of internationally-minded Japanese scientists.
Richard Thornley, President, Rolls-Royce Japan said;
Science and engineering make 'magic' happen in the world. We will continue to need talented scientists, researchers and engineers with unique and varied skills. That is why we are delighted to support the programme and hope that the experience will encourage the students to pursue their interest in science.
Published 19 July 2013