News story
'Tis the season to be jolly and Love Your Local Christmas Market
Brandon Lewis urges shoppers to Love their Local Christmas Market.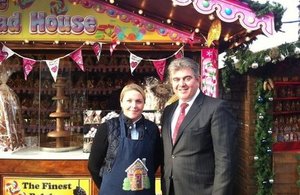 With just over 10 days to go until Christmas, shoppers were urged to search for their loved ones' gifts at a Love Your Local Christmas Market by High Street's Minister Brandon Lewis.
On a visit to Southbank Christmas Market on 12 December, the minister said Christmas was a perfect time to support local traders which was why he encouraged every council in the country to make the most of this exciting opportunity to support their high street.
Organisers across the UK will be putting out the Love Your Local Market bunting and banners and organising special Christmas lights switch on events, carol singing and other themed events like food tastings from now until Christmas Eve.
High Streets Minister Brandon Lewis said:
Britain has a proud tradition of markets, which have long been the heartbeat of many communities, and I'm proud to offer them my support. Not only do markets offer the weird and wonderful and everyday staples, they offer a vibrancy and community spirit which the internet and out-of-town retail centres can't.

Southbank's Christmas Market is fantastic place to get those last minute gifts for loved ones. This market shows how businesses can work with local authorities to provide innovative and attractive places for the local community to enjoy. I urge traders and councils across the country to back this effective and important campaign, offer support to budding entrepreneurs looking to trade and Love Your Local Market.
The minister also announced that Bermondsey and Hereford were the first 2 areas to take advantage of the Business Improvement District (BIDs) Loan Fund announced in October and will receive loans of £24,000 and £40,000 respectively.
Business improvement districts are a tried and tested town centre catalyst, used in towns and cities across the world, to raise fund for improvements to local trading areas.
Further information
The role of business improvement districts in rejuvenating high streets is being tested by some of the Portas Pilots such as Bedford, Loughborough, Bedminster and Lowestoft.
Published 13 December 2013