Time for a change as soldier turns watchmaker
A soldier whose time in the Army is running out has used the Service's resettlement package to uniquely retrain as a watchmaker and has invented what he believes to be a world's first in timekeeping circles.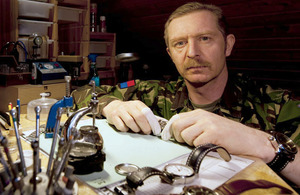 Staff Sergeant Andrew Sharpe joined the Army on Tuesday 28 October 1986, at exactly 1150hrs, and after nearly 25 years of a full Army career, in which he took part in the Gulf War and two further tours of Iraq as well as tours in Bosnia, Kosovo, Northern Ireland and the Falklands, is now due to retire from the military.
But, with the help of the Army's resettlement package, which provides all retiring soldiers with funding and support to retrain and prepare for life as a civilian, SSgt Sharpe, who serves with Germany-based 26th Regiment Royal Artillery, will quite literally have too much time on his hands as he embarks on a new career in horology (the art and science of measuring time).
SSgt Sharpe, his wife Saadet and daughter Emily live in the German town of Stukenbrock where he set up his watchmaking business two years ago. He said:
As far as I know I am the only British soldier to retrain with the Army as a watchmaker.
I was self-taught for three years before I finally started a proper course with my resettlement money. As the end of my military career approached and I started the whole resettlement process I asked whether I could get funding to train as a watchmaker.
They didn't believe me at first and just said that they didn't know about any watchmakers' courses, but eventually they found the money for me to do a course. "They asked me if I was serious and I told them that I had started my own watchmaking company two years previously which demonstrated that I was serious and wasn't just having a laugh - so they agreed.
This sends a good message to everyone in the Army, that they can follow their dreams and do what they want to do.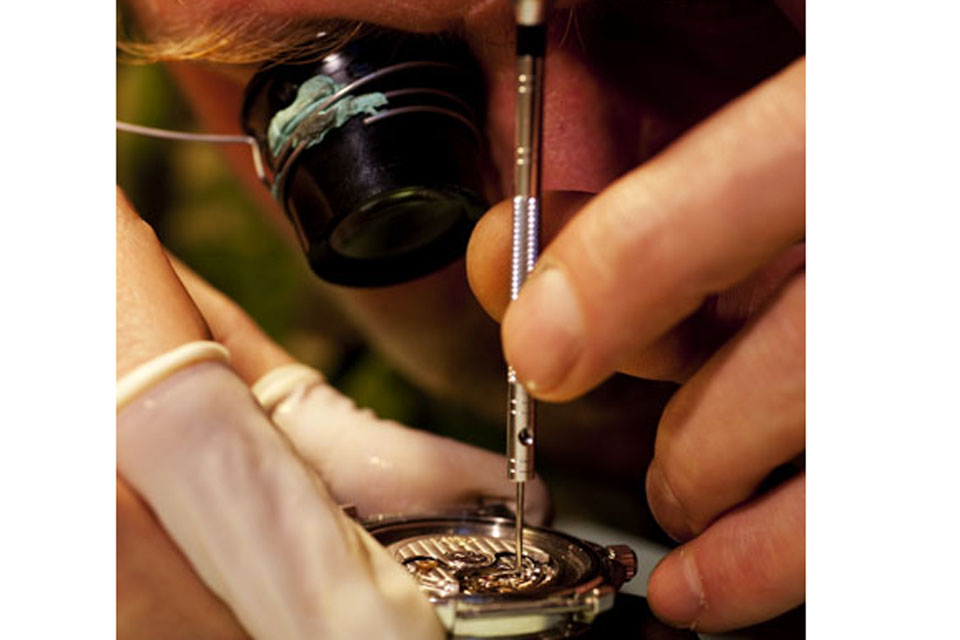 Now fully established in his new career, SSgt Sharpe, who has an engineering background and has served as a signaller, forward observer and meteorologist during his Army career, has taken on watch-fixing and watchmaking assignments from around the world and believes he has achieved a world's first by inventing a new kind of watch bezel (the rim which encompasses a watch crystal).
SSgt Sharpe explained:
I have invented a new kind of bezel specially adapted to tell you how much time you have both pre and post an event - it times how many minutes you have until an event happens as well as how many minutes have elapsed afterwards.
As far as I know this is the only bezel in the world that can fulfil both functions. Normal bezels will either tell you one or the other but not both.
I have had orders to fix and modify watches from all around the world, including Madagascar, French Guinea and Singapore. "I was recently contacted by someone from the United States after he spotted my comments on a watchmaker's forum on the internet. He sent me his Rolex and told me about the modifications he wanted me to make and then posted me his watch to work on.
SSgt Sharpe, who owns dozens of watches and always changes his watch on Friday, can trace his fascination with timepieces back to his childhood:
I remember I was given a watch that didn't work when I was eight," he explained. "I kept shaking it and sometimes it would work for a while and then would stop. I wish I still had it as I could probably get it to work properly now.
I started collecting watches a few years ago and I got an Omega which for some reason didn't work all the time. I took it back to Omega and they sent it away. But eventually they contacted me and said they couldn't repair it and that I could have a new one.
I couldn't accept that as I know that anything mechanical no matter what's wrong with it can be repaired - so I took it back, took it apart and fixed it. I then fixed another watch and began to think this is something I can do.
SSgt Sharpe, who is due to leave the Army in September 2011, is looking forward to pursuing his new vocation full-time and is glad that he could turn what began as a hobby into an interesting post-military career. He said: "I spent years worrying about what I would do after I left the Army - I naturally assumed I would do another job in a uniform, perhaps in security, or the police, but I am now really happy that I can do something I really enjoy and am passionate about."
As a last thank you to his unit SSgt Sharpe has designed and built a commemorative watch to mark 26th Regiment Royal Artillery's next operational tour in Afghanistan which will possibly happen towards the end of the year. He explained:
26th Regiment wanted to commemorate the tour and the training they are doing leading up to it, so I came up with the idea of making a commemorative watch - something that the members of the regiment could wear out there and actually use.
I have made fifty so far and will make a further 50. It is literally a tool for the tour.
I am also making a special 'one off' for my battery and one for the Honorary Colonel, Major General Bruce Brealey. These are the kind of watches I love to make - something that has a special meaning.
Timing is everything in the Army, being in the wrong place at the wrong time, especially working for the Artillery can be disastrous. I of course won't be going on tour but I will play a part with this watch.
It is a really wonderful feeling to know that soldiers will be wearing and using my watches in Afghanistan - it makes me very, very proud.
Published 11 April 2011