Press release
Time called on fraudsters who masterminded fake job con
Two men who pocketed thousands of pounds duping job seekers have today been banned from running an employment agency for 7 years.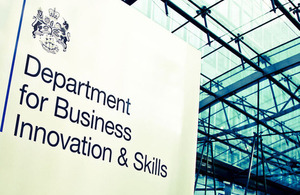 Two men who pocketed thousands of pounds duping unsuspecting job seekers into applying for jobs that did not exist have today been banned from running or being involved in running an employment agency for 7 years.
The Employment Agency Standards Inspectorate (EAS), which is part of the Department for Business, Innovation and Skills, brought legal proceedings against Mr Ian Johnson and Mr Ronald Clark and a decision was made at an Employment Tribunal hearing held this morning to ban them for a period of 7 years with immediate effect.
The hearing heard how the Newcastle based pair had placed job advertisements in the national press, on websites and Jobcentres. None of the posts advertised existed and applicants were tricked into ringing expensive premium rate numbers and charged £25 for a careers pack and administration fees. The pair generated £200,000 from their operation.
Jo Swinson, Employment Relations Minister, said:
Looking for a job is stressful enough so the last thing people need is to have their time and effort wasted in this way. It is totally unacceptable behaviour and upsetting for those who have lost money.

I am delighted that these men have been given a 7 year ban. Today's ruling shows we will take the strongest form of action and should serve as a warning to anyone who thinks they can mislead people in this way.

A well run private recruitment sector plays an important role in ensuring that the UK's labour market works effectively. It is essential that employment agencies operate within the law.
The pair did not contest today's ruling.
Notes to editors
1. A criminal case brought by the police has already been heard at Newcastle Crown court where in February 2012 both men pleaded guilty to charges including obtaining a money transfer by deception money and fraud by abuse of position.
In May 2012, Mr Johnson was sentenced to 30 weeks imprisonment while Mr Clark was sentenced to 34 weeks imprisonment suspended for 18 months.
2. Mr Ian Johnson and Mr Ronald Clark were prohibited under section 3A(1) of the Employment Agencies Act 1973.
3. The Employment Agency Standards (EAS) inspectorate is part of the Department for Business, Innovation and Skills and enforces the legislation. The Inspectorate carries out inspections of agencies on the basis of perceived risk of non-compliance and investigates complaints about agency conduct.
4. Agencies that break the law could face prosecution and be subject to unlimited fines for the most serious offences. Rogue agencies could also be banned from operating for up to 10 years.
5. Guidance and further information about the requirements for employment agencies can be found at www.gov.uk/employment-agencies-and-businesses
6. Anyone who wishes to make a complaint about the conduct of an employment agency or seek further information can contact the Pay and Work Rights Helpline - 0800 917 2368.
7. The EAS produces a list of prohibited people who have been banned from running an employment agency or business due to misconduct or unsuitability. The list can be accessed through GOV.UK 'Making the labour market more flexible, efficient and fair'.
8. The Employment Agencies Act 1973 and the Conduct of Employment Agencies and Employment Businesses Regulations 2003 (the Conduct Regulations) which were identified by the Red Tape Challenge as needing reform. A consultation was published on 17 January 2013. This consultation seeks views on reforming the rules that apply to the recruitment sector.
9. The government's economic policy objective is to achieve 'strong, sustainable and balanced growth that is more evenly shared across the country and between industries'. It set 4 ambitions in the 'Plan for Growth', published at Budget 2011:
to create the most competitive tax system in the G20
to make the UK the best place in Europe to start, finance and grow a business
to encourage investment and exports as a route to a more balanced economy
to create a more educated workforce that is the most flexible in Europe
Work is underway across government to achieve these ambitions, including progress on more than 250 measures as part of the Growth Review. Developing an Industrial Strategy gives new impetus to this work by providing businesses, investors and the public with more clarity about the long-term direction in which the government wants the economy to travel.
Published 6 February 2013