World news story
Tier 4 UK Visa Requirements for Malaysian Applicants this Summer
This was published under the 2010 to 2015 Conservative and Liberal Democrat coalition government
Malaysians applying for UK student visas this summer will enjoy better services but must submit TB clearance certificate with visa application.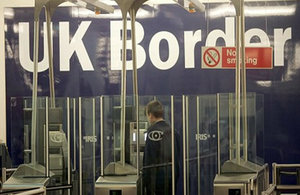 The British High Commission in Kuala Lumpur has announced that Malaysians applying for UK student visas this summer will benefit from a simpler application process and improved services, but must submit a Tuberculosis (TB) clearance certificate with their application.
Under the recently introduced streamlined visa application process, Malaysians applying for a Tier 4 student visa whose sponsor has Highly Trusted Sponsor status, will not be required to provide documentary evidence of financial maintenance and education qualifications. This is only applicable to a handful of countries whose nationals have demonstrated the very highest levels of immigration compliance.
However, Malaysian students must submit a TB clearance certificate from an approved clinic (also required by individuals travelling to the UK for more than six months), with their visa application. This requirement, which took effect in Dec 2012, has been extended to 67 countries including Malaysia, based on figures for high TB incidence provided by the World Health Organisation. Further information on TB testing and a list of approved clinics.
Following the success of our service last year, we are again offering mobile biometric clinics, for an additional fee, to UK visa applicants in East Malaysia from 19 July to 14 Sept. The mobile biometric clinics will be available at British Council offices in Kuching and Kota Kinabalu on set dates, removing the need for applicants to travel to Kuala Lumpur.
Visa applications are normally processed within 15 working days. For speedier service at an additional fee, applicants can opt for the Priority Visa service which shortens the processing time to between 3 to 5 working days. This service is also available to applicants using the mobile biometric clinics in East Malaysia. Further information on the Priority Visa service.
British High Commissioner, Simon Featherstone said:
2012 was a very good year for UK student visas. 94% of applications received were successful and 99% were processed within our 15 day target time. The majority of students this year will have the added benefit of not needing to submit education certificates and financial documents. Premium services such as our priority visa service and mobile biometric service in East Malaysia are also on offer this summer to make the process even easier and reflect the high value the UK places on students from Malaysia. As is the case for students going to Australia and the United States, students applying for UK visas will, however, need to provide a TB test certificate with their application so I do encourage them to make sure they get this as early as possible.
For inquiries on visa application, please contact VFS Global Malaysia at 03-2164 9323 or email.
Further Information
Streamlined Visa Process
Whilst not needing to provide education certificates or financial supporting documents upon submission of visa application, applicants must still meet all Tier 4 visa requirements and be able to produce these documents later if requested.
Mobile Biometric Service
The Mobile biometric clinics will run once a week from 19 July to 14 Sept (except public holidays) with Saturday mornings in Kota Kinabalu and Friday mornings in Kuching. Prior appointment must be made at the visa application centre website. Payment for the service and the visa application fee must be made in advance at any Alliance Bank branch.