News story
Three New Trustees Appointed to the Royal Armouries
The Secretary of State has appointed Neil Grant, Paul Kirkman and Jonathan Sands as Trustees of the Royal Armouries, each for a term of four years. Paul and Jonathan will be starting their terms on 28 September 2018, whilst Neil will begin his term on 1 October 2018.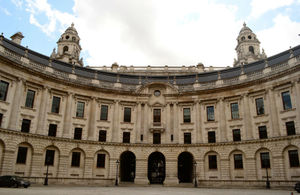 Neil Grant
Neil Grant originally trained as an archaeologist at Reading University before moving into a career in finance. He has worked for Historic England for the last nine years, where he is currently Head of Corporate Finance & Performance. He has written a number of books for Osprey, the specialist military history publisher, covering both twentieth century firearms and medieval weapons and armour. He also serves as a committee member of the Ordnance Society.
Paul Kirkman
Paul Kirkman has 25 years top level experience in public policy and cultural sector leadership. Paul was Director of the National Railway Museum in York from 2012 to 2017, where he returned the world famous Flying Scotsman to operation and established a partnership with the City Council for a £700m brownfield development of land around the museum. From 2005-2012 Paul had a range of senior roles at the Department for Culture, Media and Sport, including leading on the Coalition Government's Spending Review in 2010 and having responsibility for policy and funding for the National Museums and Arts Council England. He was Head of Policy of Planning at the Natural History Museum between 1999 and 2001, at the launch of its Darwin Centre development. He had three spells at HM Treasury and was Private Secretary to the Director General of the Confederation of British Industry, working for Howard Davies and Adair Turner in the period in the run up to the 1997 election. Paul originally studied Philosophy at Edinburgh University, has an MA in Art History from Goldsmith's College and was a fellow of the Clore Leadership Programme.
He lives in the East End of London with his wife Lilly, who runs her own design business.
Jonathan Sands
Jonathan is Group Chief Executive and Vexillifer of Elmwood an international brand consultancy with studios in Leeds, London, New York, Melbourne and Singapore. They are famous for winning more Design Effectiveness Awards than any other business ever. They work with Global FMCG brands such as GSK, Heineken and Pepsico, retail brands such as Tesco, Walmart, Loblaw and Coles and corporate brands such as ANZ and SSE. Jonathan has been with Elmwood man and boy (36 years this year) undertaking a Management buyout in 1989 at the age of 29. He is a regular speaker at design conferences and an industry commentator. He is a past member of the Design Council and RSA and a former Chairman of the DBA. He is a Visiting Professor of Innovation at Huddersfield University where in 2002 he was awarded an Honorary Doctorate for my services to the Design Industry. He was also awarded an OBE in the Queens New Years Honours in 2011 for his services to the Creative Industries.
Jonathan is a Non Executive Director of RATE (The Royal Armouries Trading Enterprise) an Advisory board member of AND Digital (one of the countries fastest growing tech companies) and Chairman of a new start up online veterinary business 'Joii'. Outside work he is a proud father of three, a long suffering Derby County supporter and an average golfer.
This appointment has been made in accordance with the Cabinet Office's Governance Code on Public Appointments. The appointments process is regulated by the Commissioner for Public Appointments. Under the Code, any significant political activity undertaken by an appointee in the last five years must be declared. This is defined as including holding office, public speaking, making a recordable donation, or candidature for election. Neil, Paul and Jonathan have declared no such political activity.
Published 8 October 2018