Press release
Three more every working day – ex-Remploy workers in jobs boost
Ex-Remploy workers have found fresh starts in new careers at a rate of three every working day over the past few weeks, as the Government's.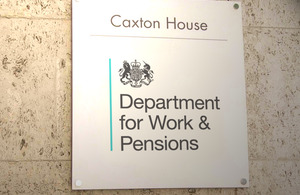 Ex-Remploy workers have found fresh starts in new careers at a rate of three every working day over the past few weeks, as the Government's £8m package of support for those who have left the factories takes effect, Minister for Disabled People Esther McVey announced today.
More than half (602) of those on the support programme are now in new jobs or training to start new opportunities, with the help of the 18-month package of tailored one-to-one support.
Nine former Remploy factories have also either been taken over, reopened, or are set to reopen as new businesses or social enterprises.
Minister for Disabled People, Esther McVey said:
I know this is a difficult time for ex-Remploy workers - so I am pleased to see that the support we are offering is making a real difference to those who have left Remploy already, with many moving into new careers.

I'd encourage any ex-Remploy worker who is still considering their future but hasn't taken up our offer of support to do so, so they can get access to the one-to-one personalised support and personal budget.

Disabled people should have exactly the same choices as everyone else in the world of work - from hairdressing to engineering and everything in between - and the support package is helping to make this happen.
Chesterfield, Barrow, Birkenhead, Bolton, Bridgend, North London, Oldham, Wigan and Wrexham have been sold or will reopen as new businesses or social enterprises, many taking on original staff members.
Five former Aberdeen Remploy factory workers have also started up a co-operative business. Almost two thirds of Remploy's Bridgend factory, which ceased production last week, also already have new jobs.
The factory closures follow the advice of a disability review which recommended the protected budget for disability employment should be used more effectively to get disabled people into mainstream jobs instead of subsidising loss-making factories.
Notes to Editors:
1093 disabled former Remploy workers are choosing to work with our Personal Case Workers to find another job.** 348** jobs have been found for disabled former employees since they were made redundant. As of 29 March, 288 were in work and a further 314 in training.  On 22 March - 273 were in work, on 15 March - 256 were in work and on 08 March - **239 **were in work.
The employment rates for disabled people have increased gradually over the years from 44.5% in 2002 to 48.9% in 2012. However, only 46% of working age disabled people are employed, compared with 76% of people who are not disabled.
The Government has put in place an £8m package of employment support for those affected by the factory closures, including a Personal Case Worker to help individuals with their future choices, as well as access to a personal budget of around £2,500 per disabled person.
To encourage bids that maximise the continued employment of disabled people, the Department for Work and Pensions will offer a three year tapering wage subsidy totalling £6,400 for each eligible disabled member of staff. In addition Remploy will also fund professional advice and support worth up to £10,000 for employee-led bids.
Published 5 April 2013