Press release
Thousands of lives to be saved in biggest roll out of abdominal aortic aneurysm screening
Implementation of a screening programme for abdominal aortic aneurysms (AAA), which will save the lives of thousands of older men was launched today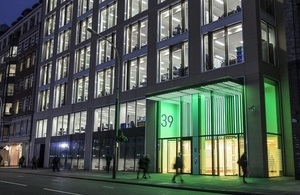 A major push forward in the implementation of a screening programme for abdominal aortic aneurysms (AAA), which will save the lives of thousands of older men, was launched today by Health Secretary Andrew Lansley.
The Health Secretary launched the largest phase of the screening programme at Leicester Royal Infirmary, one of the first sites to offer screening for AAA. This major roll out will cover 80 per cent of the country, with screening available across the whole of England by the end of March 2013. The NHS AAA screening programme, which started in 2009 for men aged 65, aims to prevent up to half of the 6,000 deaths every year.
Health Secretary Andrew Lansley said:
"One of the key outcomes of improvement in the NHS must be to reduce avoidable mortality. Over the last nine years, in Opposition and now in Government, I have long campaigned for AAA screening, arguing how many lives it can save.  So I am very pleased to be able to today launch the third, and biggest phase of AAA screening, taking us to 80 per cent coverage of England by April 2012.
"By March 2013 screening for abdominal aortic aneurysms will be available for all men over 65 in England.
"Screening saves lives and improves the health of the nation - by spotting aneurysms early, it can be monitored, prevented from getting worse and treated if necessary, saving the lives of thousands of older men.
"Modernising the NHS will help ensure this screening programme is delivered to the highest standards - with men found to have large aneurysms being referred to high quality vascular services - resulting in real improvements in patients' health."
This is the third phase of the programme and is by far the largest. It involves 18 new local programmes being rolled out across the country - doubling the current coverage to 80 per cent of the country. Phase four will complete by March 2013 and will mean the screening programme will be available across England.
Abdominal aortic aneurysms are formed when the major blood vessel to the body weakens and expands. Around 6,000 people in England and Wales, mostly men aged 65 and over, die every year from ruptured abdominal aortic aneurysms.
End
Notes to Editors
For further information, contact Department of Health press office on 020 7210 5221.
Programmes by Implementation Phase
Early Implementation sites (2009/10)
Leicestershire
Gloucestershire
South Manchester
South Devon & Exeter
West Sussex
South West London
Phase One (2010/11)
Heart of England
Peninsula
North Central London
Greater Manchester (expansion of South Manchester programme)
North East
Phase Two (2011/12)
East Yorkshire and Humber
North West London
Hampshire
Kent & Medway
Hereford & Worcestershire
Somerset
Phase Three (to start from October 2011 to March 2012)
Coventry & Warwick
Bristol
Shropshire
Nottingham
Staffordshire
Derbyshire
West Yorkshire
Central Yorkshire
Northamptonshire
Thames Valley
Five Rivers
West Surrey
East Surrey
Cambridgeshire
Black Country
Sussex
Cumbria & Lancashire
Norfolk and Norwich
Published 27 October 2011