News story
Thousands of jobs and apprenticeships to get seaside economies and flood affected areas growing
50 Coastal Communities Fund winners named and next bidding round opened.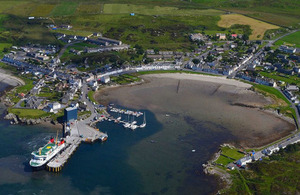 Chief Secretary to the Treasury, Danny Alexander and Communities Secretary, Eric Pickles announced a multi-million pound package to create jobs and apprenticeships in coastal towns across the country, including areas affected by the recent floods, as part of the UK government's long-term economic plan.
Over 50 projects across the UK were today awarded a share of £27.7 million of funding, supporting over 4,000 jobs and creating over 1,000 new apprenticeships and training places.
In England, £17 million is today allocated to economic development projects in areas affected by the recent severe flooding, so from Great Yarmouth to Weymouth and Devon to North Tyneside, communities can invest and rebuild their local areas after the recent extreme weather.
The ministers also announced that bidding for the next round of the Coastal Communities Fund was now open and that bids on coastal flood protection and repair would be prioritised. The fund will support £64 million of projects across England, Wales, Northern Ireland and Scotland over the next 3 years.
Creating new jobs and apprenticeships in coastal communities
The Coastal Communities Fund was created to direct regeneration investment to seaside towns and villages to help rebalance their local economies, reduce unemployment and create new work opportunities for young people from the local area.
The fund has already supported more than 100 projects in the first 2 years delivering over 4,000 jobs and over 1,000 apprenticeships. This takes the expected total, including today's projects, to over 6,500 jobs and 2,000 apprenticeships.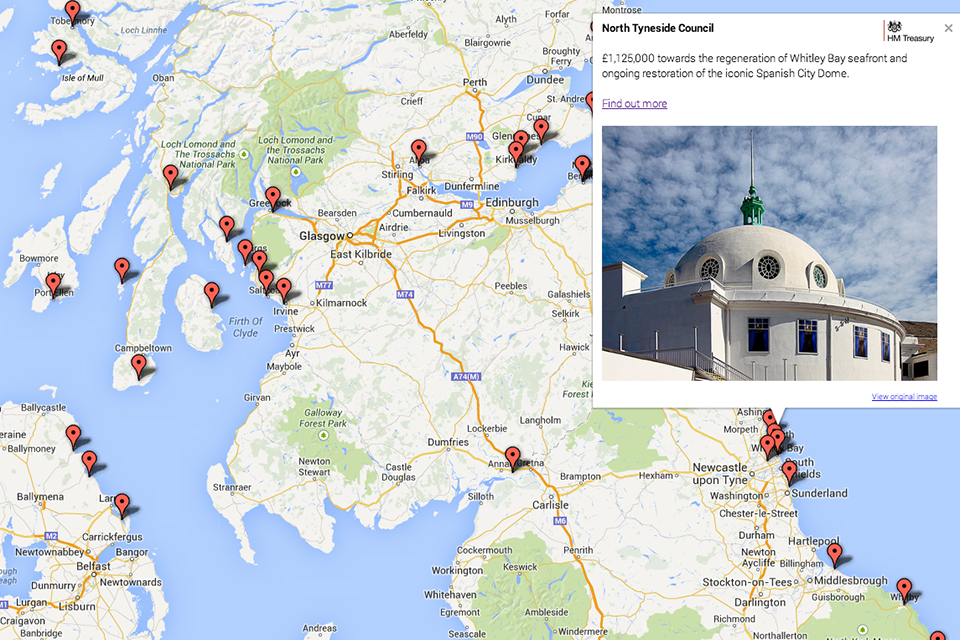 The new projects announced today include £1.3 million to diversify the tourism offer in Southend including a Seafront Apprenticeship scheme, £170,000 to develop the Arran Coastal Way in Scotland, £270,000 to develop Northern Ireland's first lobster hatchery and £100,000 to support the creation of a new water sports centre in Colwyn Bay in Wales.
To support the announcement Danny Alexander visited a regeneration scheme in Hull that will receive £300,000 from the fund to transform a disused dock into a multi-million pound technology hub, giving the local economy significant boost.
From Hull, Danny Alexander said:
The Coastal Communities Fund allows us to help communities across the UK to rebuild and regenerate their local economy, with projects this year supporting nearly 4,000 jobs and 1,000 training places.

This is even more important given the extreme weather and I'm very pleased we're giving £17 million of the fund to projects in areas hit by floods. Additionally, we have invested £5 million from the fund's reserve into the government's programme for flood recovery.

The Coastal Communities Fund is supporting some of the most fragile communities. It is a great way to make sure that people living around our coastline can share in the benefits of the increased returns for the Crown Estate's marine activities.
£64 million more support, with special consideration for flood recovery projects in England
Ministers also launched the third round of the fund, now extended to span 3 years so it can attract even more ambitious projects and give communities greater flexibility to manage their bids. With £64 million available, funds are the highest so far.
In England, bids for flood management schemes and projects to repair the recent flood damage will also be included as part of the next round of project winners. This will help communities affected by recent extreme weather get back on their feet and ensure that their local economy can grow in the coming years.
The fund is also supporting inland areas in England that are affected by flooding through a one off £5 million freed up from the Coastal Communities Fund reserve to go towards flood recovery projects as part of the Severe Weather Recovery Scheme. This will not affect the funding allocated to existing or future budgets.
Communities Secretary Eric Pickles said:
Regenerating forgotten coastal communities is part of the government's long-term economic plan and our Coastal Communities Fund is backing over 100 projects, that will support a total of 6,500 jobs and 2,000 apprenticeships creating new opportunities for local people.

We also want to help our seaside towns affected by the recent flooding get back on their feet as soon as possible. In England, nearly three-quarters of these regeneration projects funded today are in flood affected areas and our support will help these communities show they are back in business.

The next round of the Coastal Communities Fund is now open and we will be prioritising bids on coastal flood protection and repair. This government is committed to supporting the regeneration of our seaside towns and part of that is taking decisive action to help communities and businesses affected by the floods.
You can listen to an audio clip of Eric Pickles talking about the Coastal Communities Fund on Audioboo.
Published 7 March 2014