Thousands honour 11 Light Brigade in Winchester
The people of the city of Winchester turned out in their thousands yesterday to pay tribute to the men and women of 11 Light Brigade at the biggest homecoming parade of its kind since the start of operations in Afghanistan.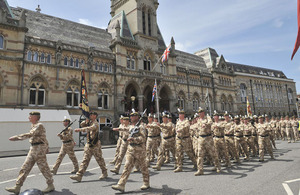 A total of 650 soldiers from the 12 regiments that make up 11 Light Brigade marched six abreast, accompanied by three bands, through the streets of Winchester.
They were cheered by thousands of local people, and Her Royal Highness The Duchess of Cornwall, who was also in attendance, described all of the 5,100 members of the brigade as 'heroes'.
11 Light Brigade were deployed to Afghanistan from October 2009 to April 2010.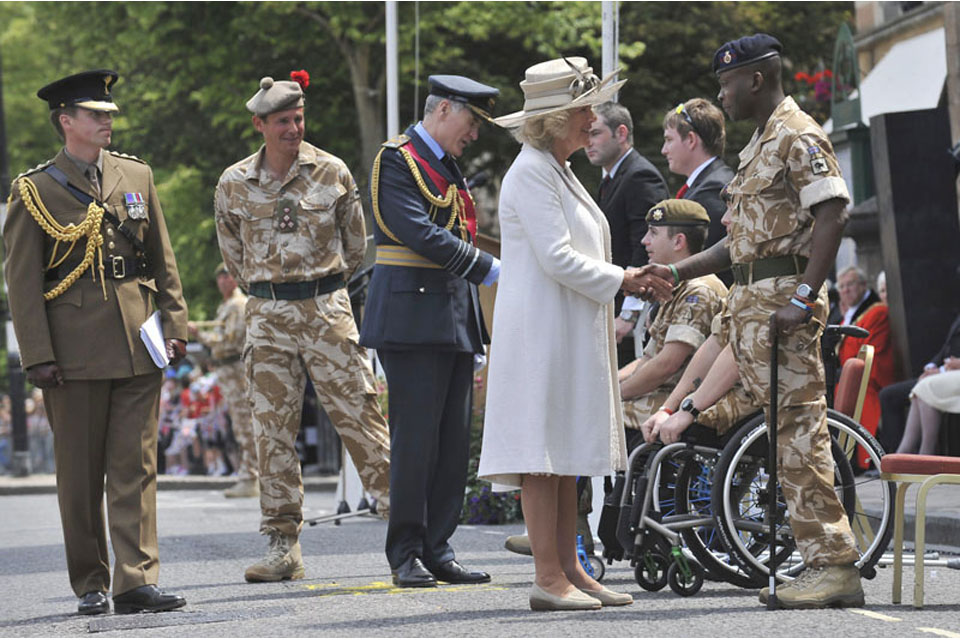 The Duchess of Cornwall said:
Through all the adversity you have fought on with immense courage, displaying the highest level of dedication, loyalty and professionalism as you have gone about bringing stability and security to this troubled region.
You are all heroes and I salute you all for a job very well done.
You are an immense credit to your regiments, the brigade and to this country and you have proved once again that the British Army is the best in the world.
The day was also an occasion to remember the 64 fallen members of the brigade.
Following the parade, the Duchess of Cornwall, the troops and accompanying guests attended a service of thanksgiving and remembrance at Winchester Cathedral.
The Duchess of Cornwall said:
Although we are all here to celebrate your return the price has been extremely high. And I join you in mourning those 64 soldiers who are not here and who made the ultimate sacrifice during these past months.
My heartfelt thoughts and prayers go out to their families as they continue to come to terms with their agonising loss.
Among those the Duchess met, during a private reception, were the families of two soldiers who died and families who have been presented with the Elizabeth Cross.
However, as well as remembering those killed, it was also an opportunity to reflect on what had been achieved.
Brigade Commander, Brigadier James Cowan, explained:
Helmand is the most violent part of Afghanistan. Three of the four most violent districts in all of Afghanistan are in British Helmand.
So it is a challenging area but one that I think we brought a measure of peace to.
During their tour 11 Light Brigade took part in Operation MOSHTARAK, the large multinational offensive to drive insurgents out of the Nad 'Ali and Marjah areas of southern Helmand.
The operation is widely viewed as a success, with ISAF forces now exerting greater influence in the region, denying the insurgents freedom of action and offering the local population the opportunity to build up civil institutions.
Published 24 June 2010