Thousands cheer 4 RIFLES back from Afghanistan
Thousands of well-wishers cheered, applauded and waved flags as soldiers from A Company, 4th Battalion The Rifles (4 RIFLES), recently returned from a tough deployment to Afghanistan, marched through the streets of Dorchester this week.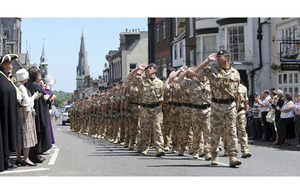 Led by the Salamanca Band of The Rifles, 150 officers and soldiers in their desert combat uniforms marched from Poundbury Barracks to the town's War Memorial in bright sunshine, on Wednesday. They were addressed and inspected there by the Mayor of Dorchester, Councillor Leslie Phillips.
Councillor Phillips said the town was extremely proud of what the soldiers had achieved:
I offer the warmest greetings to the officers and Riflemen of A Company, 4 RIFLES, whose return to this country after a hugely demanding tour of duty we are here to celebrate today.
"You have earned yourselves a reputation second to none and I am immensely proud that Dorchester is one of a number of towns in your Supporters Club which has followed your progress with interest."
The Riflemen, led by their Company Commander, Major Richard Streatfeild, returned to their barracks in Bulford on Salisbury Plain at the end of April after a successful but extremely intense and sometimes tragic six-month deployment in Afghanistan.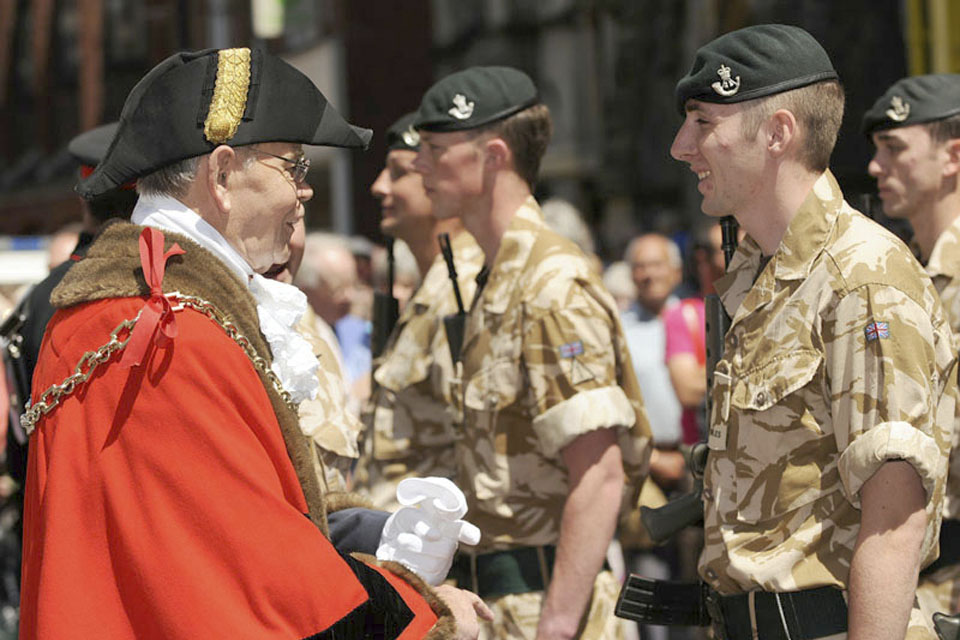 Five members of A Company were killed during the tour. They were: Lance Corporal Tom Keogh, aged 24 who died on 7 March 2010; Rifleman Carlo Apolis, 28, on 1 March 2010; Rifleman Martin Kingett, 19, on 25 February 2010; Rifleman Peter Aldridge, 19, on 22 January 2010; and Rifleman Samuel Bassett, 20, on 8 November 2009.
Based in the Sangin district of northern Helmand, the soldiers were located predominantly in Forward Operating Base (FOB) Inkerman and the surrounding recently-built Patrol Bases with the task of extending the area of security and stability around the population centres.
This week's march followed a private service of commemoration at St Peter's Church where the Company, accompanied by bereaved families, civic dignitaries and retired senior officers, remembered the fallen soldiers.
After a special lunch in Poundbury Barracks the soldiers and their families were welcomed into a large number of Dorchester's shops, museums, businesses, pubs and restaurants who offered special deals for the soldiers with special 'Heroes Welcome' stickers in their windows.
The Rifles were granted the Freedom of Dorchester in 2007 shortly after the Regiment was formed.
Maj Streatfeild said, whose audio blogs were broadcast on the BBC throughout the deployment (See Related Links), said:
A Company's return brings to an end the Battalion's 11-month commitment in Afghanistan, and we are now able to begin to come together again for the first time since early last year.
The people of Dorchester had a long-standing affiliation to one of our former Regiments, The Devonshire and Dorset Regiment. This affiliation was extended to The Rifles on our formation in 2007 and it is something we are very proud of, as many of our veterans and Riflemen come from the local area. We hope that our special bond will continue throughout our future deployments.
The Rifles have paid a high price in Afghanistan over the last 18 months, but it has not been in vain; real progress is being made. We are proud of the role we are playing in the major security challenge of the day and will continue to do so.
Published 18 June 2010