Press release
Thousands celebrate UK Older People's Day
More than 2,500 events will take place around the country on Friday [1st October] to mark UK Older People's Day.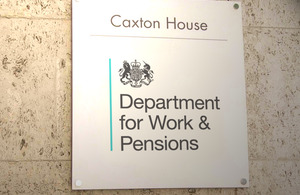 More than 2,500 events will take place around the country on Friday [1st October] to mark UK Older People's Day.
The celebrations are being held to recognise the important contribution that older people make to society and will coincide with the UN International Day of Older Persons.
16.5 per cent of the UK's population is currently aged over 65 and the figure is set to rise to 22 per cent within 20 years, that's almost one in four people.
Pensions Minister Steve Webb said:
Older people are at the forefront of British society today - throughout business and industry, as well as in family life.

We must harness the skills and experience of our older generations and Older People's Day provides an opportunity for us to celebrate the important roles that they play here and all over the world.
Events taking place throughout the country include exercise classes, dances, craft fairs, skills workshops and sporting competitions at a range of venues such as community centres, theatre groups, shopping malls and libraries.
Ann Hardy is a 70-year-old sports coach from Southampton.  She runs a 50+ club three times a week at Fleming Park Leisure Centre in Eastleigh.  She said:
You've got to keep the body active, it's no good just sitting back.  Our group attracts around 100 people and we do a variety of sports from badminton, tennis, bowls and table tennis to swimming and aerobics.  We get men and women of all ages, our oldest member is around 86.  We even have people recovering from hip replacements and heart operations who come and exercise as part of their rehabilitation.  The club gives a new lease of life to our members.
On Older People's Day the club will be running extra events including chair aerobics, new age curling and an afternoon tea dance.
When asked if she has any plans to slow down, Ann said:
I don't even think about retiring.  I still feel good and I can give good advice on health and keep fit so why waste it?  It keeps me active and I enjoy it.
Age UK has been running its Fit as a Fiddle campaign to encourage people to get and stay active in later life.
Michelle Mitchell, charity director at Age UK, said:
Rather than slowing down in later life, many older people are involved in a huge range of sports and activities from golf to sky diving and are still at the top of their game.  Unfortunately staying active isn't easy for everyone and more than 80 per cent of older people aren't doing enough exercise. But it is never too late to start leading a healthy lifestyle and Older People's Day is a great excuse to give something new a try.

Exercise not only helps people maintain their physical health, it also offers the opportunity to get out and about and meet new people, which is important as we get older.
David Stalker, Executive Director, The Fitness Industry Association said:
Today is the perfect opportunity to celebrate older adults and recognise the major contribution they can continue to make to society.

But, what we need is an older generation which is fit and which is healthy. That is why keeping active in later life is vital to every older adult, irrespective of their mobility or their mental wellbeing.
To find out more about UK Older People's Day and for information about events taking place in your area, visit http://fulloflife.direct.gov.uk/older-peoples-day.html.
Notes to Editor:
Statistics from the Office for National Statistics (2010), Ageing in the United Kingdom
Published 30 September 2010