This week on the Foreign Office Global Conversations blog
Libya, North Korea and the Arms Trade Treaty were amongst the subjects discussed by Foreign Office bloggers last week.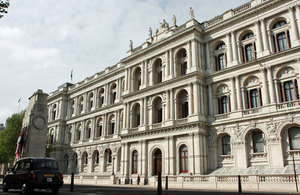 UK Ambassadors discussed the continued situation in Libya with perspectives from Sudan, Bolivia and Romania. UK Ambassador to Romania, Martin Harris welcomed Romania's decision to enforce an arms embargo on Libya noting that "Romania is one of our constant allies in NATO. British and Romanian forces are both fighting in the south of Afghanistan. Now we will act together again to implement the UN's resolutions on Libya."
Robin Twyman who covers Trade Policy, Business Affairs and Agriculture at the British Embassy in Washington talked about the importance of 'Making Doha a bigger priority'.
UK Ambassador to Hungary, Greg Dorey focused on the the British Embassy Human Rights Movie Day in Budapest. Amongst the films screened was 'This Prison Where I Live' which tells the story of the popular comedian Maung Thura, better known as Zarganar who is currently serving a 35-year sentence in Burma. Ambassador Dorey noted that "his case is a good example of why the international community continues to call on the Burmese regime to release unconditionally all political prisoners, and commit to a genuine and inclusive process of dialogue and national reconciliation."
Martin Uden, Ambassador to the Republic of Korea visited Pyongyang (Korea, DPR (North Korea) and has posted four updates on his blog with pictures. These include a visit to Wonsan and an insight into the work of the British Embassy in Pyongyang.
John Duncan Ambassador for Multilateral Arms Control & Disarmament posted an update on negotiations on the new Arms Trade Treaty at the United Nations in New York.
The British High Commissioner to Australia, Paul Madden, commenced blogging with his first post outlining his impressions of Australia since taking up his role eight weeks ago.
Published 25 March 2011