This week on the Foreign Office Global Conversations blog
Press freedom, Japan and Sudan were amongst the topics discussed by Foreign Office bloggers.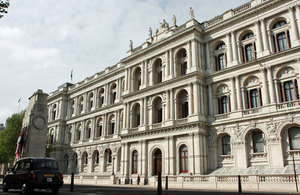 Foreign Office Minister Alistair Burt marked Iran Journalist's Day against this background: '33 journalists and bloggers in prison. Over 60 journalists forced into exile since 2001. More than 40 publications banned since June 2009. An estimated 3,000 journalists out of work. Over five million websites blocked and international satellite broadcasts jammed.' He went on to say
" … Iranian journalists mark national journalist's day. Yet congratulatory headlines, gifts from employers and rousing speeches from government leaders can't compensate for harassment, imprisonment and pervasive censorship."
Britain's High Commissioner to Pakistan, Adam Thomson used his blog to proclaim that 'The worst of Britain brings out the best of Britain' in response to the recent riots in England.
Reflecting on three days volunteering in Tohoku Tom Burn, Head of the Media and Communications for the British Embassy, Tokyo talked about his reason for volunteering:
"Since having deployed with the first Embassy team to travel to the disaster area after the earthquake, I had wanted to do something to repay the kindness we were shown by local people who graciously helped us at a time of great loss."
Former UK Ambassador to Sweden, Andrew Mitchell resumed blogging as FCO Director for 2012 Olympic and Paralympic Games with his first blog entry called 'A Very British Olympics'
Ambassador to Hungary, Greg Dorey has been publishing blog updates about Consular support and UK involvement in the Sziget Music Festival.
The challenge of being a blogging Ambassador was the topic for Nicholas Kay who is himself the UK Ambassador to Sudan. Ambassador Kay explained his approach:
"I don't write to please. I write because I know there is a real interest within Sudan (and perhaps more widely) in knowing what an Ambassador to their country thinks. An Ambassador has a duty to foster better understanding between two states. Understanding does not always mean agreeing. But it does require a mutual respect. In the end it's about good communication."
Lastly, The Foreign Office's Head of Digital, Jimmy Leach posed this question; 'What Sunderland can teach us about using social media?'
Published 12 August 2011