This week on the Foreign Office Global Conversations blog
Libya, North Africa, Commonwealth Day, Olympics, travel advice and a Royal visit were amongst the topics discussed by Foreign Office bloggers.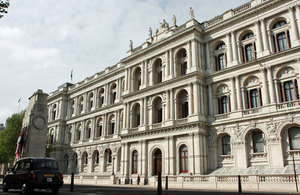 Ambassador to The Netherlands, Paul Arkwright discussed the situation in Libya with regard to the UN vote on a no fly zone over Libya. Based in The Hague, Ambassador Arkwright noted that, "The Dutch government has strongly supported the Resolution. And there's another element which I am following closely - the decision of the Prosecutor of the International Criminal Court, based in The Hague, to open an investigation into possible crimes against the Libyan civilian population."
UK Ambassadors and High Commissioners marked Commonwealth Day, giving perspectives from Pakistan, Bolivia, Philippines and Brazil. The British High Commissioner to Pakistan Adam Thomson embraced the theme for Commonwealth Day 2011 by talking about 'Women as Agents of Change'.
The countdown from 500 days to go until the 2012 London Olympics and Paralympic Games started this week. This milestone was marked with blog posts from UK Ambassadors Nigel Sheinwald, Paul Arkwright, Charles Lonsdale, Alan Charlton and Martin Uden based in the USA, The Netherlands, Armenia, Brazil and the Republic of Korea. Ambassador Nigel Sheinwald in Washington noted that, "London 2012 will generate up to 75,000 contracts and over $30 billion in business. The Games are already drawing new investment to the UK."
The Foreign Office's Head of Digital Jimmy Leach explained why we've changed the names of our Consular Facebook and Twitter presences from British Abroad to FCOTravel.
Ambassador to Spain Giles Paxman focused on the upcoming Royal visit to Spain from the Prince of Wales and his wife The Duchess of Cornwall.
Ambassador to Tunisia Christopher O'Connor examined international co-operation in response to events in North Africa, noting that "with such dramatic change in this region over the last two months, it is important that governments work together in developing the best response."
Published 18 March 2011