This week on the Foreign Office Global Conversations blog
Europe, Middle East, International Women's Day and Sierra Leone were amongst the subjects discussed by Foreign Office bloggers this week.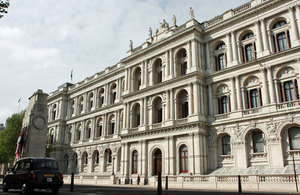 Minister for Europe, David Lidington posted a video blog about his recent visits to The Netherlands and Denmark looking at how these countries working with the UK "can explore how we can work together in the EU to drive forward some of our shared priorities, on competitiveness and growth"
In support of International Women's Day (IWD), Deputy Consul - General, New York, Dominic Meiklejohn hosted a guest blog containing a video featuring Rose Mapendo a refugee from the Democratic Republic of Congo who founded Mapendo New Horizons, an organisation that protects and cares for forgotten refugees. A great many other Foreign office bloggers posted blog entries for IWD which you can see here.
The British ambassador to the United States of America, Nigel Sheinwald who visited Fulton, MO, for events marking the 65th anniversary of Churchill's "Iron Curtain" speech at Westminster College asked the question 'What would Churchill make of the Middle East?'
UK Ambassadors, Greg Dorey, Martin Harris and Paul Arkwright based in Hungary, Romania and The Netherlands focused their attention on the issue of European Enlargement highlighted in a recent speech by the Minister for Europe, David Lidington.
A blog debut for the High Commissioner to Sierra Leone, Ian Hughes whose first blog entry outlines what he wants to achieve, noting that "Yes, systems are slow and fragile. Yes, the number of Sierra Leoneans using the internet is small. But Cyber Salone has lively and interesting exchanges of ideas. I want to join in."
Published 11 March 2011