This week at the Foreign Office
A look at news from the Foreign Office and its network of missions around the world.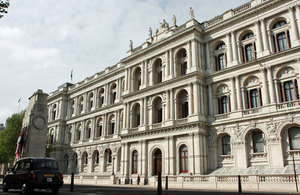 The Prime Minister and Pakistan President Asif Ali Zardari pledged to increase cooperation between the UK and Pakistan on economic development, security and cultural issues, at a meeting at Chequers.
On Wednesday, British Ambassador to Burma, Andy Heyn handed 120 pages of birthday messages for Aung San Suu Kyi to her representatives in Rangoon. The messages were posted over a seven day period by well-wishers and activists through the Foreign Office's Burma Facebook page.
Foreign Office Minister Henry Bellingham undertook an extended visit to Africa. The Minister attended the African Union Summit in Uganda and held discussions with representatives of a number of African nations including: the Democratic Republic of Congo, Uganda, Sudan and Kenya.
Ramadan is expected to start during the second week of August and the Foreign Office has alerted travellers to the additional rules that apply in Islamic countries at this time. The holy month of Ramadan lasts for 30 days.
Flooding in Pakistan caused devastation in many parts of the country and the UK announced a number of steps it was taking to provide support and limit suffering among those affected. This assistance includes supporting the Government of Pakistan's efforts to secure clean water and limit the spread of disease. The UK is also funding assistance through the UN led Pakistan Emergency Response Fund.
The UK will be represented at this year's Hiroshima and Nagasaki Peace Ceremonies for the first time. The UK's participation reflects the Government's long-term goal of a world free from nuclear weapons and its commitment to take forward the Non-Proliferation Treaty.
Search the news archive
Published 6 August 2010