This week at the Foreign Office
A look at stories coming from the Foreign and Commonwealth Office and its network of posts this week.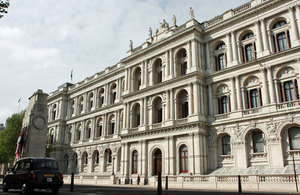 This week saw the launch of the Government's foreign policy vision with the Foreign Secretary's speech on Thursday.
Mr Hague's speech, 'Britain's Foreign Policy in a Networked World', set out how a distinctive British foreign policy, that extends our global reach and influence, can and should be achieved.
Earlier in the week the Foreign Secretary, together with Baroness Warsi, visited Bradford's newest mosque in Horton Park. The visit offered an opportunity for an informal discussion on foreign policy with business leaders and university students from Bradford's Muslim community.
On Thursday, Minister of State Jeremy Browne highlighted the dramatic rise in cases of men being forced into marriage over the last two years. Last year the joint, Foreign Office and Home Office, Forced Marriage Unit received over 220 emails and calls to its helpline about suspected forced marriages involving male victims.
Further afield, the UK's Pavilion at the Shanghai Expo 2010 scooped the prestigious Royal Institute of British Architects (RIBA) Lubetkin Prize. This award goes to the most outstanding work of architecture outside the European Union by a RIBA member.
The Foreign Office warned travellers of the threat from Hurricane Alex in the Caribbean and the Gulf of Mexico. British travellers were also updated on changes to FCO Travel Advice, following public consultation.
Search the news archive
Published 2 July 2010