This website: How has it changed?
You'll see that the corporate Department of Health website has changed. It doesn't look that different, but you'll find that there are now different ways to get at our content.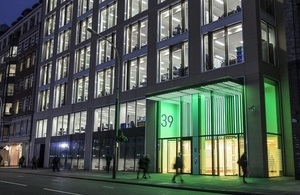 DH website: before and after
There are a few reasons why we've done this now, not least the transition of the Department itself - as roles and responsibilities shift across the health and care system, we need to be able to reflect this via our flagship website.
But you told us you wanted the site to change too. Our user surveys show that levels of user satisfaction were too low. The changes we've made should help bring our site up to date, and help us to provide our content in whatever ways you find most convenient, whether that's by browsing or searching, or by subscribing to email alerts or RSS, or viewing our content on your mobile phone.
We've tried to provide multiple routes to our content. So you'll find the latest things that the Department has done highlighted on the homepage or the news or publications pages. And we've provided pages that aggregate our content by the priorities of the Department (public health, social care and the NHS at the top level). But we know that you're likely to have more niche interests than that. So you can filter our content by particular policy theme too. So if you're only interested in nutrition, then you can bookmark or subscribe to our nutrition page.
As with any change like this, it might interupt the way you're used to finding and using our content. If you're used to looking for something particular on the site, you may find that you can't find what you're after straight away. You can rest assured that it's still there - we haven't deleted or moved any current content as part of this work. So your old links will still work. If you have trouble browsing to it, then our search function will find older content just as well as it finds new content.
These changes are part of a programme of work to update our approach to digital communication. We're really interested to hear what you think because we want to make our content as useful as possible to you.  We know that we won't have got everything right. So please post a comment or get in touch to tell us what's missing, what doesn't work, or to tell us what you think.
If you'd like to find out more about this work, see:
Published 3 August 2011