Thirty years of seatbelt safety
A selection of historic THINK! adverts have been made available online to celebrate 30 years of the seatbelt law.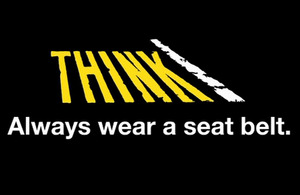 Three decades of compulsory seatbelt use are being marked today as the government made a selection of historic THINK! adverts available online. The law requiring all drivers to wear their seatbelts came in to force 30 years ago today (31 January 2013) - on 31 January 1983.
Car manufacturers have had to install seatbelts since 1965 but the law requiring drivers to wear them did not come in to force for another 18 years. In 1991 the law changed again making it a legal requirement for adults to wear seatbelts in the back of cars.
Road Safety Minister Stephen Hammond said:
Thousands of lives have been saved and countless injuries prevented over the years because drivers and passengers were wearing seatbelts.

The combination of effective enforcement and hard-hitting public awareness campaigns mean that, 30 years on, the vast majority of drivers and passengers buckle up when they get in their cars.

But, unbelievably, there are still some people who do not use a seatbelt - my message to them is simple: a seatbelt could save your life and not wearing one is just not worth the risk.
The government encourages safer driving through its THINK! campaign which seeks to reduce the number of people killed or seriously injured in road accidents by providing high quality, clear road safety advice for everyone who uses the roads. A selection of previous seatbelt campaign adverts has been made available on the THINK! website.
Notes to editors
Soon after the law came into effect in 1983, 90% of car drivers and front-seat passengers were observed to be wearing seat belts. These high rates of seat belt wearing in front-seats of cars have been sustained since that time.
When seatbelt wearing became compulsory for all rear-seat occupants in 1991, there was an immediate increase from 10% to 40% in observed seat belt wearing rates.
The government's latest seatbelt campaign is available on the THINK! website.
Press enquiries: 020 7944 3066
Out of hours: 020 7944 4292
Public enquiries: 0300 330 3000
Published 31 January 2013