Press release
Top tax criminals get over 150 years behind bars
The 32 top tax criminals of 2012 have been sentenced to a combined total of 155 years and 10 months behind bars.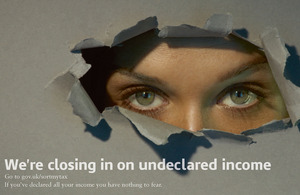 Over 30 of the UK's top tax cheats are being publicised on Flickr as part of HM Revenue & Customs' (HMRC) current Tax Evasion Campaign.
Exchequer Secretary to the Treasury David Gauke said:
The Government is committed to closing in on tax evaders. Collectively the 32 criminals have been sentenced to more than 150 years. Most people play by the rules and pay what they owe, but HMRC is cracking down on those who don't.

We hope that publishing these pictures will help get across that it always makes sense to declare all your income, and tax dodgers are simply storing up trouble for the future.
HMRC's top tax criminals of 2012 can be seen on HMRC's flickr site.
Tell HMRC about customs or excise fraud, or tax evasion by using our online form.
Notes to editors
A tax evasion campaign has been launched by HMRC as part of the Government's £917 million investment to tackle tax evasion, avoidance and fraud from 2011 to 2012. This has been added to with a further £77 million over the next 2 years, which was announced in Decembers' Autumn Statement. This will aim to raise an additional £7 billion each year by 2014 to 2015. gov.uk/sortmytax

Images can be viewed on HMRC's flickr site.
Published 4 January 2013